FSSP Clergy in the British Isles
Bedford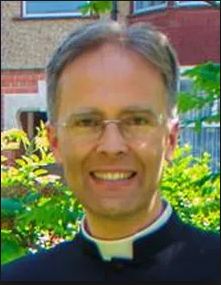 Fr Armand de Malleray, FSSP
Fr de Malleray was born in 1971 in Anjou, France, in a large practising Catholic family. He grew up in the Loire Valley, in the Diocese of Nantes. From thirteen to twenty-three, he lived in Paris for college and university studies, reading Modern Literature at the Sorbonne.
He left France in 1994 and never since resided in his home country. After military service in Budapest, Hungary, he entered St Peter's International Seminary in Bavaria in 1995, where he was ordained a priest in 2001. Later that summer, he was sent to England, being assigned to St Bede's Parish, Clapham Park, in the Archdiocese of Southwark. In 2004, he was asked to take up an administrative position at the General House of the FSSP in Fribourg, Switzerland. Fr de Malleray also became the Chaplain of the Juventutem movement.
In August 2008, Fr de Malleray was sent back to Our Lady's Dowry, to set up the new permanent base of FSSP England in Reading, in the Portsmouth Diocese. As well as his daily ministry at St William of York Church, Fr de Malleray has been the editor of Dowry, the quarterly magazine of the FSSP in England. He also gives spiritual retreats to the laity and to the clergy. As of 2007, Fr de Malleray, is Chaplain of the Confraternity of St Peter (the 6,000 strong international sodality linked with the FSSP). Since November 2015, he was the Rector of St Mary's Shrine in Warrington, while remaining the superior of the English apostolate of the FSSP; as of October 2023 he heads up the apostolate in Bedford.
---
Warrington
Fr Matthew Goddard, FSSP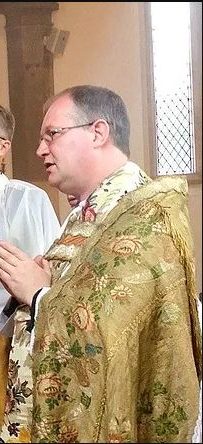 Fr Matthew Goddard was born into a musical family in Kent. Raised Anglican, he converted to Catholicism in 1988. After reading Theology at the University of Southampton he subsequently worked in the Social Care field in Southampton, Glasgow and Kent. His last role was that of Housing Manager for a national housing association, running 'half way houses.'
He entered the Fraternity of St Peter's international seminary in North America in 2002 and was ordained to the priesthood in May 2009. After 3 years ministering as Assistant Priest in the Fraternity of St Peter's parish in Ottawa, Canada, he was assigned to Reading as Assistant Priest in July 2012 and has been leading the Community since September 2015. He was named the first Parish Priest of the personal Parish of St John Fisher, Reading, at its establishment in September 2018. Fr Goddard is also the Bursar of our English apostolate.
Fr Ian Verrier, FSSP
Fr Ian Verrier, an Assistant Priest at St Mary's Shrine, Warrington, was born in Birmingham and raised an Anglican. He read Music at The University of Birmingham, during which time he became a Catholic.
He pursued postgraduate cello performance at The Royal Northern College of Music (RNCM) and gained a Post Graduate Certificate in Education with specialist string teaching at the RNCM and The Manchester Metropolitan University. He plays the cello, harpsichord, piano and organ.
He taught Catechism and Music whilst being Head of the Lower School at a Catholic boarding school in France, before entering the Fraternity's international seminary in North American in 2008. There, among other duties, he was organist, led the polyphonic choir and a Gregorian chant schola. He was ordained to the priesthood in May 2015, served as an Assistant Priest in the FSSP's Reading-based apostolate until the end of 2017 after which time he was reassigned to St Mary's Shrine, Warrington where he is now Assistant priest.
Fr Alex Stewart, FSSP
Fr. Alex Stewart grew up in the North West of England and worked in Ireland during several years. He was ordained a priest at St Mary's Church in Warrington on 17 June 2017, by Archbishop Malcolm McMahon OP of Liverpool. Fr Stewart served in the U.S.A. until the summer 2019. He is temporarily assigned at St Mary's Warrington. Fr Stewart acted as Master of Ceremonies on countless occasions even when still a seminarian and his expertise in this field and others is greatly valued.
Fr Gwilym Evans FSSP
---
Fr Seth Phipps, FSSP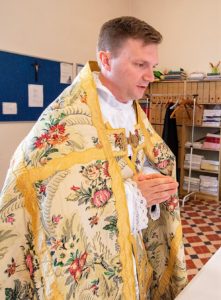 ​Fr Seth Phipps was born in Bath, England, where he was raised as an Anglican. He studied Classics at Oxford, where he became Catholic. While completing a doctorate in the obscure topic of 'Greek poetry in the fourth century BC', he felt God's call to the priesthood, and after discovering the FSSP through a retreat in Reading, he entered the seminary in Denton, Nebraska in 2011. He was ordained to the sacred priesthood at St Mary's, Warrington, in June 2018 and is currently assigned as Priest-in-Charge at St John Fisher Parish, Reading.
Fr Phipps's main 'extracurricular' interests are music (at one time he wished to be a professional orchestral musician, while at seminary he sang in the chant and polyphonic scholas) and football (he was captain of the seminary team until age took its toll).
---
Edinburgh
Fr John Emerson, FSSP
Fr John Emerson was ordained to the priesthood in June 1981 and incardinated into the FSSP in November 1988. He is based in Edinburgh, Scotland and is in charge of our Scottish apostolate.
Fr. Brendan Gerard, FSSP
Fr Patrick O'Donohue, FSSP

Fr Patrick O'Donohue is originally from Co.Clare in the south-west of Ireland. Subsequent to receiving a Bachelor of Arts in English Literature and Philosophy from the National University of Ireland, his time as a seminarian at the Pontifical Irish College earned him a theology degree from the Gregorian University in Rome. He was later awarded a Bachelor of Philosophy and a Licentiate of Sacred Theology, with a thesis topic centred on the theology of Pope Benedict XVI.
Following his ordination on the Feast of Corpus Christi in 2010, he served for four years as a university chaplain in Galway, after which he was assigned to parish ministry near Galway city. He spent a total of three years in the parishes of the Good Shepherd and the Annunciation of the Blessed Virgin Mary prior to arriving at the FSSP's Reading-based apostolate in September 2017. In September 2020 he left Reading to begin the FSSP's first full time apostolate in Ireland, in the Diocese of Waterford.
---
---