April 14, 2022
The Catechism Explained by Fr. Spirago – published by Mediatrix Press
Brand new hardback copies now available for discounted purchase at St Mary's shrine bookshop, Warrington: £20.00 per copy (instead of £28.00 on publisher's website and £33.00 on Amazon).
Opening times: 12:20pm-1:00pm every Sunday. Pay with cash only, thank you.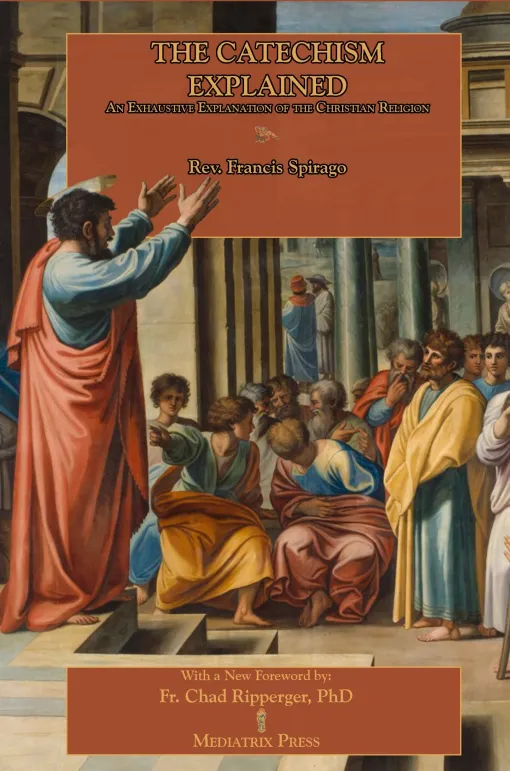 At long last, the Catechism explained by Fr. Spirago is back in print. This edition is not a facsimile, but a full reprint with increased font size, and very minor updates to antiquated English. Some of the numbering has been redrafted to avoid confusion.
We already have so many catechisms, what do we need of another? We indeed have in abundance catechisms and religious manuals which appeal only to the intellect; books that do not aim at the warmth of expression and the fervent, persuasive eloquence which appeal to the heart, the force and vivifying power which affect the will through the influence of the Holy Spirit.
This Catechism aims at cultivating all the three powers of the soul: the intellect, the emotions, and the will. It does not therefore content itself with mere definitions. The idea in it is not to teach men to philosophize about religion, but to make them good Christians who will delight in their faith. Consequently questions of scholastic theology, doctrines debated among theologians, are either omitted altogether or merely receive a passing mention.
In this catechism, Fr. Spirago has endeavored to divest religious teaching of the appearance of learning, and to present it in a popular and simple form. Technical terms, in which almost all religious manuals abound, even those intended for children, are carefully eliminated from his pages since, while useful and necessary for seminarians and theologians, they are out of place in a book intended for the laity. Popular manuals of religion ought to be couched in plain and simple language, like that used by Our Lord and the apostles, easy to understand. What we need is something that will touch the heart and influence the will, not merely cram the mind with knowledge.
"The Catechism Explained by Spirago embodies the Catechism of the Council of Trent, yet contains fuller discussions for each point in the language that was developed by the Church, saints and theologians throughout time. Rather than being locked into a specific age or decade, this catechism is an explication of the faith in an almost timeless manner. It is a catechism that any subsequent generation could read and learn the essence of the Catholic faith."
-Fr. Chad Ripperger, PhD