March 22, 2021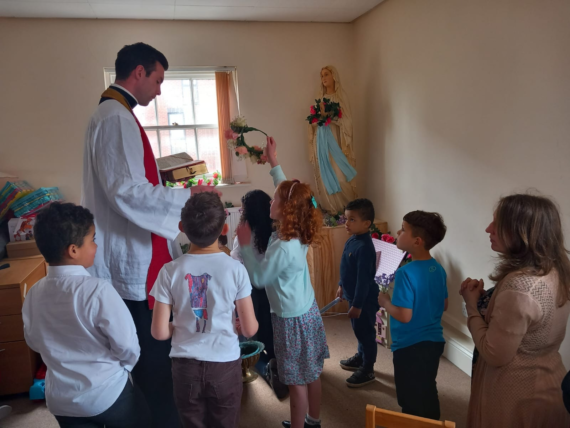 In 2019, a few families in Bedfordshire took the initiative to bring a successful U.S. model of Classical Catholic education to the U.K. with pastoral support from the Priestly Fraternity of St. Peter. In its second year, the number of families using the Academy has already doubled, with more families joining and moving to the area this year in anticipation of September 2021.
Given the growing community in Warrington, and answering demand from local parents, we have started a centre at St Mary's Warrington, with God's help, from September 2023. The Academy offers a full Classical Curriculum, completely grounded on the magisterium of the Catholic Church, and a community of Catholic families. Trained, paid teachers provide two days per week of on-site tuition. For the other days of the week, comprehensive study plans are provided for parents to follow with their children. Parents benefit from structure, accountability and community, and their children gain Catholic friends for life.
Over the past 18 years, thousands of children have been educated with this curriculum in the U.S., so parents can be confident that it is a tried and tested system of Catholic education which results in robust qualifications, a lifelong love of learning and, most importantly, a deep-rooted faith.
If you are a parent who is interested in St Mary's for your own children, please email Dominic Jones or Raymond Cilia, the Warrington coordinators of St Mary's Academy: stmarysacademy.warrington@gmail.com giving your contact details and your children's ages/current school years. Alternatively, if you would like to apply for the Warrington RCA, please fill out the application form at https://www.stmarysacademywarrington.co.uk/about/admissions
If you are a teacher who wants to work in such a Catholic environment, or have administrative skills that could help shape the Academy, please also contact us as above. We don't need financial assistance to start up, but you could certainly also help us with prayer, in particular to the now Venerable Mother Elizabeth Prout, foundress of the female branch of the Passionists who used to run St Mary's School in Warrington. Any financial support will be gratefully received by St Mary's Academy: please contact in advance St Mary's Academy on the same email: stmarysacademy.warrington@gmail.com or see website for details on how to give: https://www.stmarysacademywarrington.co.uk/donations
To allow us to plan the expected opening, we need to know by 1st August 2023 how many children will start with us in September.
Please be sure to contact us long before that deadline. Lastly, please share this information far and wide now. Thank you on behalf of many children – and their parents!