December 24, 2021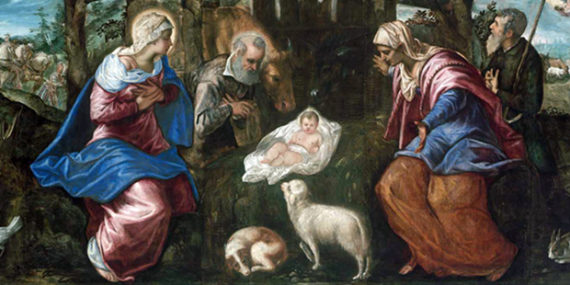 Nativity, Tintoretto
| | | | | | |
| --- | --- | --- | --- | --- | --- |
| Fri | 24 | Vigil of the Nativity | | | |
| | | Solemn Vespers 6:00pm, Carols 11:30pm | | | |
| Sat | 25 | Nativity of Our Lord Jesus Christ | | 00:00am | FSSP clergy |
| | | | | 9:00am | John & Anne Norris RIP |
| | | Solemn vespers 6:00pm (No 6:00pm Mass) | | 11:00am | Confraternity of St. Peter |
| Sun | 26 | Sunday in the Octave of the Nativity | | 9:00am | Holy Souls |
| | | 5pm Vespers and Benediction of the | | 11:00am | All St. Mary's Faithful |
| | | Blessed Sacrament | | 6:00pm | Annie Mullin |
So as to share our LiveMass.net channel with other FSSP churches across the world, in Warrington our Christmas Solemn Midnight Mass will not be livestreamed, but will be uploaded later on for watching. See LiveMass.net for full schedule in other locations.
Our Christmas Solemn High Mass of the Day (11:00am) will be livestreamed and also available for watching later on.
See the schedule for further Masses on our online parish bulletin.
We wish you all a blessed Christmas.