September 9, 2022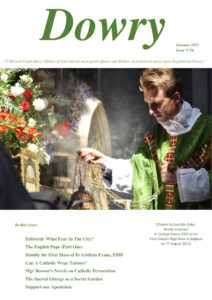 In this issue:
Editorial: What Fear In The City?
Fr de Malleray comments on the fear felt by many souls confronted with growing uncertainty in the Church and secular pressure from the world
The English Pope (Part One)
While another English cardinal has just been created, young convert and historian Adam Mercer describes the rise to prominence of one Nicholas Breakspear, who later become the first (and latest) English pope.
Homily for First Mass of Fr Gwilym Evans, FSSP
Fr de Malleray welcomes the newly ordained priest as he begins his pastoral ministry in England. Fr Evans is reminded of being a man of the sacred, better to serve souls, including the most vulnerable ones. Diligence and love for God, especially in the Blessed Sacrament, conditions a fruitful priestly life.
Can A Catholic Wear Tattoos?
Niall Patrick Carroll reflects on Fr Mike Schmitz's "Awesome Tattoo". Why this recent trend of tattoos, now spreading even among Catholics? What criteria help one discern whether tattoos are bad, indifferent or positive? Our souls are where the divine imprint should show, now and forever.
Mgr Benson's Novels on Catholic Persecution
The newly started Cenacle Press at Silverstream Priory in Ireland has released a beautiful illustrated edition of Mgr Hugh Benson's classic novels describing the persecution of Catholics in England under penal times. A timely reminder and an encouragement as genuine religious freedom is under threat even in Western countries.
The Sacred Liturgy as a Secret Garden
In his latest and short book, Fr de Malleray offers an analogy between Frances Hodgson Burnett's pre-WWI tale for children and the revelation experienced in the 2020s by a growing number of adults stepping into the grace-filled haven of the traditional Roman liturgy.