September 19, 2023
Click here to open the 20-page magazine or on the picture below.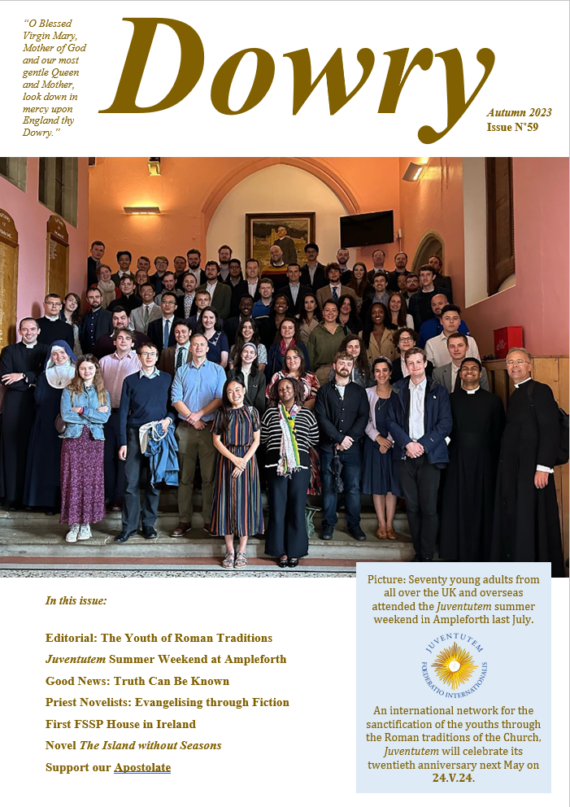 In this issue:
Editorial: The Youth of Roman Traditions
Fr de Malleray reports on World Youth Day in Portugal last August with the Juventutem youth movement. A low-key presence but loaded with many graces, not least the protection of Our Lady of Fatima.
Juventutem Summer Weekend at Ampleforth
Tom Clovis, FSSP describes the successful annual Summer Weekend organised by Juventutem for 70 young adults in Ampleforth Abbey last July, boding well of next summer's edition for the 20th anniversary of Juventutem.
Good News: Truth Can Be Known
A typed version of the talk by Conan McGonagle, FSSP on objective truth and how we can grasp it. Relativism influences us all. With St Thomas Aquinas, common sense is the best guide to use God's creation fruitfully.
Priest Novelists: Evangelising through Fiction
The example of Cardinals Newman and Wiseman, among others, illustrates why some priests write novels to reach out to souls. Fr Armand de Malleray, FSSP surveys the involvement of clerics in the literary apostolate.
First FSSP House in Ireland
Fr Patrick O'Donohue, FSSP rejoices as the Bishop of Waterford blesses the first permanent dwelling of the FSSP on the Emerald Isle in Waterford. A major encouragement in our Irish mission.
Novel The Island without Seasons
Fr Armand de Malleray, FSSP reviews a recent novel by a Romanian author and Tolkien expert. Hero Alexander Wills is sent on a quest for lost Atlantis, a warning to our modern age to have to learn from the past.
Support our Apostolate
Our ministry depends on the charity of our benefactors: parishioners, visitors and readers. Every little (and big) help enables us to do more and better across these Isles. Thank you for your generosity!