March 22, 2023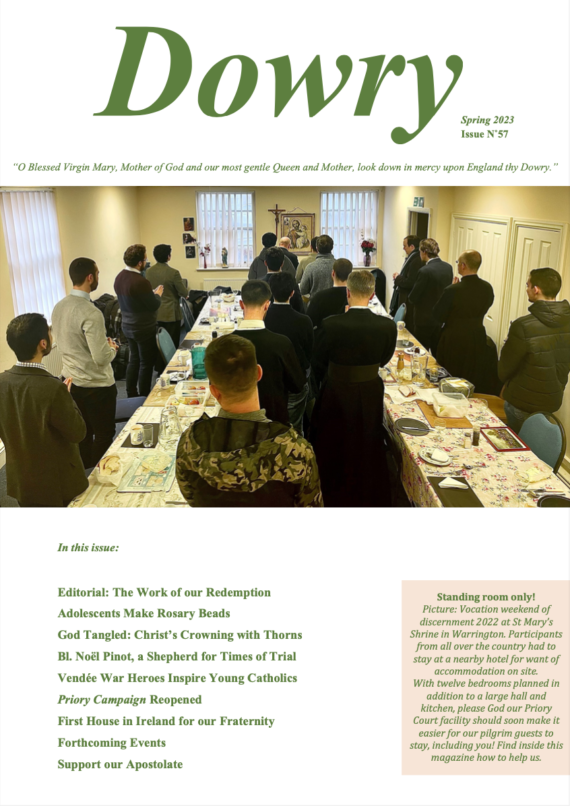 Click here to open the magazine.
In this issue:
Editorial: The Work of our Redemption
Fr de Malleray, FSSP addresses concerns about the future of the traditional Latin Mass. The prospects are bleak, but divine Providence will support us if we put our hearts into this liturgy as a means of sanctification for us and others.
Adolescents Make Rosary Beads
Romeo and Lucianna Robinson, a disabled young man and his sister, found that their usual beads did not last very long. They decided to make their own. Now they sell them as an apostolate.
God Tangled: Christ's Crowning with Thorns
As a Lenten meditation, Fr Armand de Malleray, FSSP explains how the thorns of the crown of Our Lord prophetically 'stem from' the timber of the cross as prefigured in various episodes in the Old Testament.
Bl. Noël Pinot, a Shepherd for Times of Trial
Frs Franck Labbé and A. de Malleray tell the story of the exemplary pastor who, during the French Revolution, walked up to the guillotine wearing his priestly vestments and praying the very first words of Holy Mass, 'Introibo ad altare Dei'.
Vendée War Heroes Inspire Young Catholics
Young Catholics in France learn about the courage of their forefathers, mostly country people and a few local gentry who stood up for their faith against formidable odds, whose bravery earned them the admiration even of Napoleon.
Priory Campaign Reopened
Times call for strong traditional Catholic centres, such as St Mary's Warrington. Invest with us in a fully-fledged traditional Catholic hub with versatile conference hall sitting 218 guests.
First House in Ireland for our Fraternity
By Fr Patrick O'Donohue, FSSP describes the encouraging growth of our Irish apostolate. He trusts in the intercessions of saints and the assistance of the faithful to consolidate our first base on the Isle of Saints.
Forthcoming Events
Supporters of the traditional Latin Mass will be eager to book early for these various events, including children's camps, youth summer weekend, pilgrimages, confirmations, and retreat for all.
Support our Apostolate    
Unlike long-established religious orders and dioceses endowed with valuable assets providing regular income, the FSSP in this country relies essentially on the generosity of its benefactors. Thank you for your support to help us do more for God and souls.