May 4, 2022
Would you like to walk among 15,000 pilgrims to a great medieval Marian shrine in France? Including French and foreign pilgrims, and about 150 young consecrated men and women, seminarians, friars, priests, monks and nuns walking with full-length habit the 70 miles between Paris and Chartres?
The annual Pilgrimage of Christendom from Paris to Chartres is the largest yearly gathering of Catholics worshipping according to the traditional liturgy. This year, Sat 4 to Mon 6 June 2022.
Click on picture to hear why this young pilgrim invites you to join [make sure to activate automatic English subtitles]: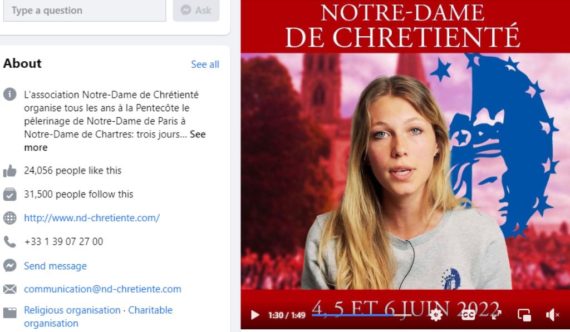 https://www.facebook.com/watch/?ref=external&v=715229856189012
Providentially, after 2 years of interruption due to Covid, the dates this year (4-6 June) coincides with the UK Jubilee Bank Holiday, allowing many more Brits than usual to take part. Currently the Covid travel regulations are nearly disappeared (with just one single negative PCR test result taken within 72 hours or an antigen test result taken within 48 hours pre-departure, and no further test either in France or back in England; nor any quarantine).
Arrival in Paris by Friday night 3rd June, for departure from Paris early morning on Saturday 4th June. Walk 70 miles. Only carry the light items you need for the day, while heavy stuff remains in your suitcase loaded on Pilgrimage trucks. Pilgrims communal tents and troughs available and breakfasts. Bring your own lunches and suppers. Arrival in Chartres on Monday afternoon 6th June, with pontifical high Mass in the cathedral.
All liturgies in the traditional form.
Contact TODAY Michael to book with the English Chapter: m.hall@talk21.com. There is also an Irish Chapter.
Michael will assist you with travel and accommodation  arrangements.
Michael is registered with the organisers as the Head of the English Chapter. They require participants details of as soon as possible and there is a DISCOUNT if we can submit registrations by 15 May. 
Michael has found reasonably priced accommodation for at least 12 in Paris the Friday night and in Chartres for the Monday, but ideally he will need an idea  of numbers next week before confirming the booking.
See pictures and further info on https://www.nd-chretiente.com/.