August 10, 2020
Last month (July 2020) a generous benefactress bequeathed £50,000.00 from the estate of her late husband (R.I.P.) to the Priory Campaign. This is the fourth largest donation received since the beginning of our Campaign two years ago. It was totally unexpected and came as special blessing, since the benefactress was not in regular contact with us and does not live near Warrington. It confirms that our goal to secure a traditional stronghold in England appeals to Catholics nationwide, not only in the North West.
This providential donation brings completion within reach, leaving what we currently estimate to be only about £77,000 (this figure is still to be updated with more recent donations). 
While we already own Units Two & Three (bought last October for £480k, i.e. £240k each), we need to raise the remaining funds before 16th October 2020 in order not only to complete the purchase of Unit One, currently leased to us, but also to carry out the necessary work to convert the property for our use.
As you are aware, our aspiration is to buy the remaining part of Priory Court (Unit 1) as part of the Campaign, but should we not have sufficient funds to convert and reconfigure the whole Priory Court building to better suit the needs of St Mary's Shrine, then Unit One will be handed back to its owner in October 2020 and Campaign funds would then be used for the purposes of conversion and reconfiguration of the parts of Priory Court that we do own (namely, Units 2 and 3).
Each unit is 2,561 Sq ft on three floors. We will thus own 5,122 Sq ft, plus 18 parking spaces.
Please get in touch with us if you would like further clarification or wish to discuss a donation that you have made. Kindly email any inquiries to malleray@fssp.org.
God bless you.
---
Moving here? They are building the trad Village for us!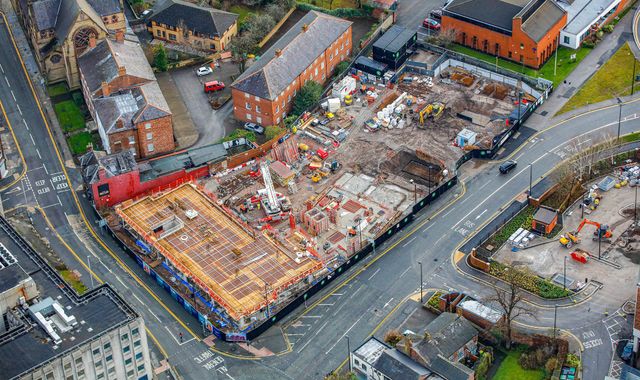 St Mary's Shrine is the Catholic church building in the centre of Warrington. Warrington Borough Council is promoting the construction of many residential buildings within a few minutes walk from our Shrine. You could move here. Further below, we explained two years ago our vision for a strong traditional hub of families and individuals living geographically close to each other around our Shrine. The ongoing lockdown, with the extreme difficulty of accessing the sacraments and of finding support from among one's peers, is leading Catholics to consider very seriously this option.
Right outside Priory Court, dozens of flats are currently being built. Fancy this: from your kitchen you could see the procession start and arrive in church before the Asperges begins, without having to cross any street! (Admittedly, better arrive earlier for Holy Mass.) Take a look for instance at: https://www.laneend.org/academy-street-warrington.
A few minutes walk south of St Mary's Shrine, Howley is a quiet residential area with bungalows and small houses, with pedestrian access to Victoria Park through the lovely Howley suspension bridge across the Mersey River.