September 2, 2022
PRAY FOR UNBORN CHILDREN ON SAT 3 SEPT:
1) You ARE able to travel to London:
Contact us urgently if you can join our group on the March for Life on Saturday 3rd September.
We have 3 spaces available at present. We need them filled today, lest money and opportunity be wasted.
If you are able to come but money is an issue, contact us anyway.
Departure: 9:22am from Warrington Bank Quay
Arrival back: 20:14 to Warrington Bank Quay
We have paid for 30 discounted seats at £62.50 each on the direct return service to London Euston.
If you are booked on it with us and have omitted to pay, please do so with Fr Quirke.
2) You are NOT able to travel to London:
Please join our two-hour Eucharistic adoration at St Mary's Shrine on Sat 3rd Sept 10am-12noon, prayed specifically for the success of the March for Life, for the protection of unborn children and the end of abortion. A votive Mass of the Immaculate Heart of Mary will follow at 12:10pm.
---
PRO-LIFE FETE:
On Sunday 4th Sept, after the 11am Mass, in the Priory Garden: cakes, tea and coffee; tombola and bric-a-brac.
---
BAPTISM:
Of Baby Olivia Langley at 3:00pm on Sunday 4th September, newborn sister of Jacob.
Congratulations to her parents Joshua and Samantha who were married at St Mary's in June 2019.
---
SICK PRIEST:
Pray for Fr Krzysztof Sanetra, FSSP, who was ordained in our church with Fr Stewart on 17 June 2017.
While in Poland, Father was diagnosed with severe lung infection and remained in hospital in a critical condition for several weeks. He can finally walk without assistance, but not very far, and might be released home shortly for convalescing.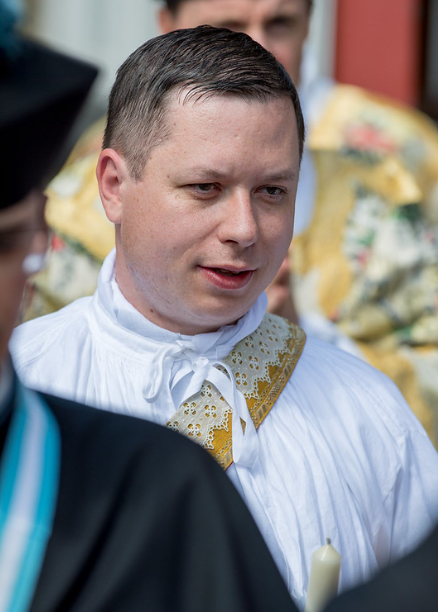 ---
No First Friday evening Mass and devotions today (Fri 2nd Sept), but Votive Mass of the Sacred Heart at 12:10pm with Act of Reparation.