November 2, 2022
First Friday 7:00pm Holy Mass and Holy hour following on 4th Nov as usual. (It was omitted on the newsletter.)
First Saturday Votive Mass of the Immaculate Heart on 5th Nov, 12:10pm.
---
All-night adoration in intercession for unborn children on Sunday 6th Nov. After talk on Fatima by Marian Franciscan Fr Philomeno James at 7pm, spend one hour or more at St Mary's Shrine Church. All-night adoration goes on until 5:30am early Mass.
Prior to the event at St Mary's, Candlelit vigil 5pm-6pm at BPAS Merseyside Clinic, 32 Parkfield Rd, Liverpool L17 8UJ. Contact Gabriele: Liverpool40daysforlife@gmail.com.
---
HELPING HOLY SOULS: On All Souls, the four priests at St Mary's offered 12 Holy Masses of Requiem. Globally though, the 355 priests of the FSSP worldwide offered over one thousand (1065 exactly) Holy Masses of Requiem within one day.
Reminder: plenary indulgence:
On All Souls' Day (Nov. 2nd ) a plenary indulgence, applicable only to the Poor Souls in Purgatory, is granted to those who visit a Catholic church and there recite one Our Father and one Creed.
On all the days from November 1st through November 8th inclusive, a plenary indulgence, applicable only to the Poor Souls in Purgatory, is granted to those who visit a cemetery and pray even if only mentally for the departed. There must be one visit for each day one seeks to gain the indulgence; one visit will not apply for several days. Any public cemetery with Christian tombs will do. The nearest one is 5 minutes walk from St Mary's: St Elphin's, Church Street, WA1 2TL.
Conditions for both indulgences:
1. Only one plenary indulgence can be granted per day.
2. It is necessary to be in the state of grace, at least by completion of the work.
3. Freedom from attachment to sin, even venial sin, is necessary; otherwise the indulgence is only partial. (By this is meant attachment to a particular sin, not sin in general.)
4. Holy Communion must be received each time the indulgence is sought.
5. Prayers must be recited for the traditional intentions of the Holy Father on each day the indulgence is sought. No particular prayers are prescribed. One Our Father and one Hail Mary suffice, or other suitable prayers.
6. One must be absolved in confession the fortnight before or following.
---
Pakistan Flood: Elaine Merriman thanks the benefactors who helped raise £243.00 last month. The money will be donated to The Little Way Association Pakistan Flood.
---
Annual FSSP England, Scotland & Ireland Clergy gathering: will take place in Warrington from 21st to 23rd Nov. For the first time, ten FSSP priests will attend, travelling from Reading, Edinburgh and Waterford.
Come and attend
our 6:00pm solemn Vespers on Monday 21st Nov, Feast of the Presentation of Our Lady;
and our 6:00pm solemn Vespers on Tuesday 22nd Nov, Feast of St Cecilia, Patroness of musicians.
In addition to serving at Vespers, altar servers are welcome to book to serve the twenty private Masses that will be offered on our four altars on 22nd and 23rd morning. Please pray for your priests, and seminarians.
---
Annual Vocation Discernment Weekend for single Catholic Men (18-30) on 25-27 Nov. Already 17 men are booked (another three will confirm soon). Please pray for their fruitful discernment, and for many more to find out the holy will of God for them.
Come and discern with us God's holy will for you. Info/bookings: malleray@fssp.org.
Facebook: https://www.facebook.com/events/390473926608133
---
New Baby: Congratulations to Matthew and Gemma Stankiewicz on the happy birth of their second child Anastasia Rose on Sat 29th October.
Baptism: Congratulations to Alasdair and Virginia Mackenzie on the happy birth of their second child Alexander, and his Holy Baptism on 5th November.
Baptisms: Congratulations to Amaya and Kayleb baptised last month.
40th Wedding Anniversary last 16th October: Congratulations to Nigel and Myriam Cunningham, and their children and grandchildren.
---
Prayer: Fr de Malleray is on yearly retreat and assures you of his prayer, as he requests yours.
---
Fr Gerard Quirke is due back on 17th November from his ongoing formation stage in America.
---
Remembrance Sunday: 13 November, 11:00am, Solemn High Mass of Requiem at St Mary's Shrine, with FAURE's Requiem sung by our choir.
---
ADVENT MARIAN SATURDAY on 3 DEC:
Begin Advent with us around Our Lady on the first Saturday of December.
10:00am-12noon: Eucharistic Adoration with confessions heard by two priests.
12:10pm: Sung Holy Mass (Rorate Mass of Our Lady in Advent, with candles) with Marian homily.
1:30pm: special opening of our bookshop with new arrivals, heavily discounted hand missals, books of fiction and devotion, Christmas cards and rosary beads (plus a surprise gift). A great opportunity to buy affordable and sound Christmas presents. Picnic lunch in parish hall or at nearby cafes. Christmas play by our children.
3:00pm: Spiritual Advent conference by a priest.
3:30pm: Sung First Vespers of the 2nd Sunday of Advent
4:00pm: Ends.
No booking needed. Bring your friends along.
O Come, O Come, Emmanuel!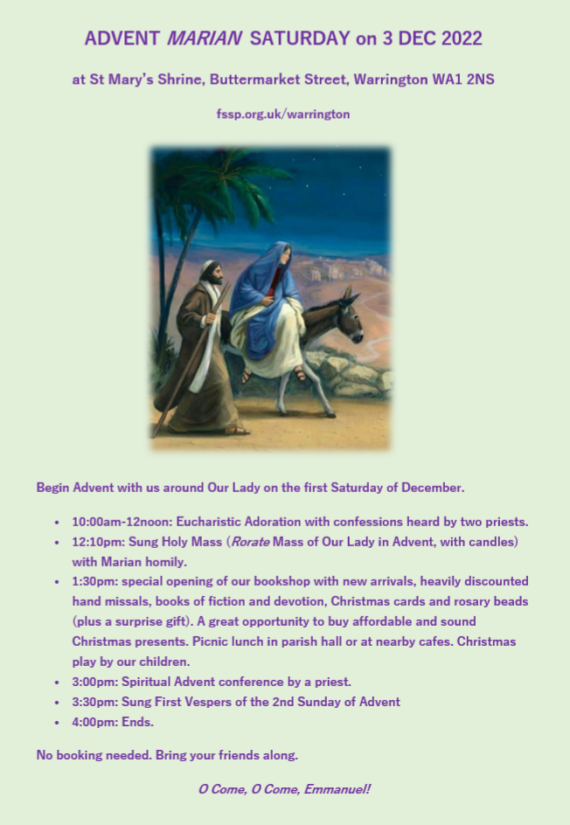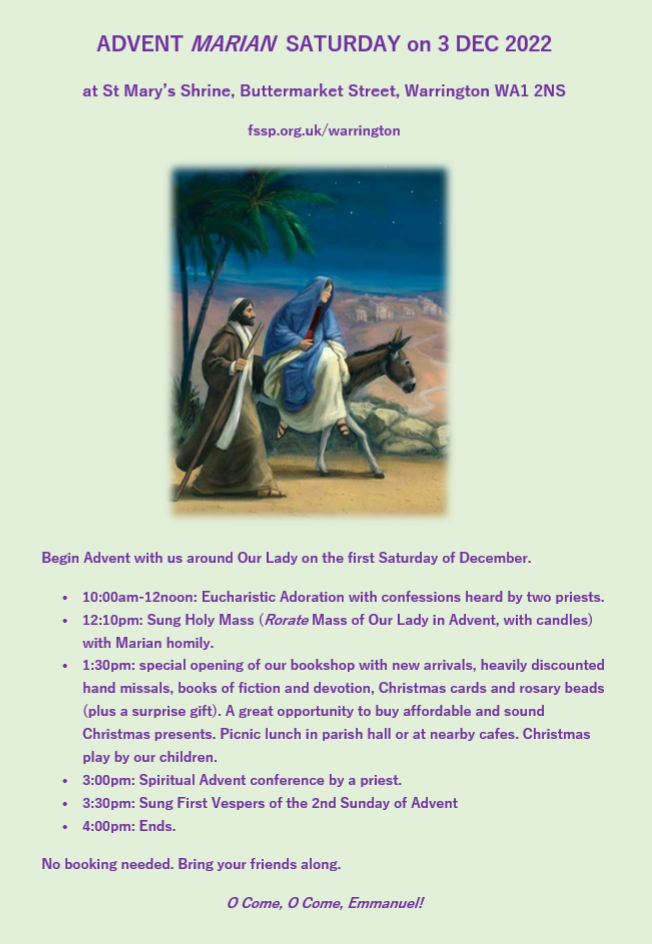 Facebook page for this event: https://www.facebook.com/events/1542637936170236
---
Advent Wreath workshop: Saturday 26th November after 12:10pm Mass: meet upstairs in Priory Court 1 ( top floor). Contact Myriam Cunningham.
---
MAGAZINES: (in addition to your favourite DOWRY Mag):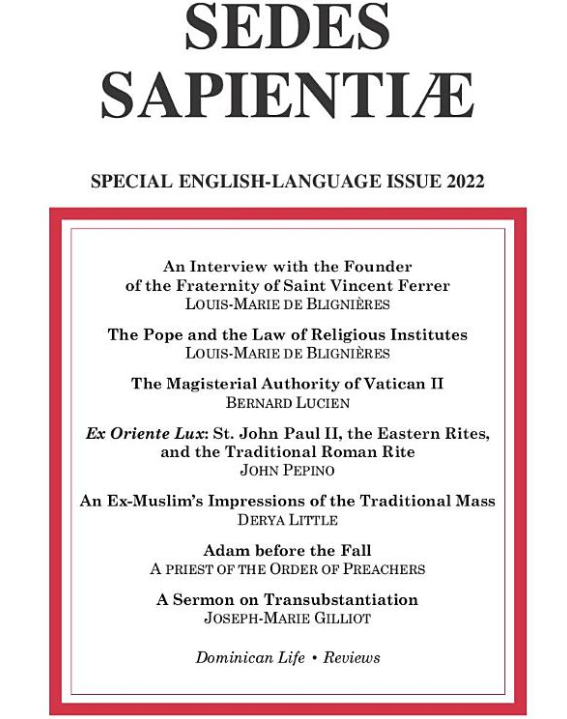 ---
Thank you for helping us through the Offertory collection and standing orders.
Support St Mary's Shrine: send your donation via our Donate page: https://fssp.co.uk/donate/. Ask us for a Gift Aid form to increase your donation by 25% at no extra cost to you. Gift Aid envelopes can be obtained from our Secretariat. Standing orders are easier and quicker for us to process than cash: Lloyds Bank ; Sort Code: 30-80-27 ; Account number: 30993368.
Account name: FSSP Warrington
---
Now 726 subscribers to St Mary's YouTube channel: Homilies for Sundays and major feasts are uploaded regularly. Visit www.youtube.com/channel/UC_NVY7jpDIhANiwjng1gN0w
---
St Mary's Academy takes place weekly. Contact us for information: stmarysacademy.warrington@gmail.com.
---
Bookbinding and book repair mark.chatwood@gmail.com; Mob: 07493 292 039
---
LATIN FOR BEGINNERS by parishioner Sam Barry: Contact 073755 14860 ; sambarry92@gmail.com.
---
Pray for: Anne Drury, Deryck Sankey, Ray Cilia, James H., Tim Wright, Michael Leacy, Wendy Moss, Bill Conder, Greta Doyle, Dorothea Wallace, M. Hawley; Theresa Reynard, Hilda Creagan. RIP: Fr John Gildea (from the Liverpool Archdiocese, based in Warrington); Ann Evans; Michael Whelan; John Marechal.
---
HOLY MASSES
| | | | | | | |
| --- | --- | --- | --- | --- | --- | --- |
| Sun | 6 | | 22nd Sunday after Pentecost | II | 9:00am | Ephrem Setako |
| | | | 5pm Vespers and Benediction of the Blessed Sacrament | | 11:00am | All St. Mary's Faithful |
| | | | All-night adoration 7pm-5:30am, ending with Low Mass. | | 6:00pm | Soul nearest entrance to heaven |
| Mon | 7 | | Feria, Votive Mass of the Holy Trinity | IV | 12:10pm | Private intention |
| Tue | 8 | | Feria, Votive Mass of the Angels | IV | 12:10pm | Holy Souls/Andrew Irving RIP |
| Wed | 9 | | Dedication of Archbasilica of Our Saviour | II | 12:10pm | Logan Patrick Jones |
| Thur | 10 | | St. Andrew Avellino, Confessor | III | 12:10pm | Tina Leigh Baker |
| Fri | 11 | | St. Martin, Bishop Confessor | III | 12:10pm | Martin Oravik |
| Sat | 12 | | St. Martin, Pope Martyr | III | 12:10pm | Private intention |
| | | | Adoration & Confessions 10.00-12.00 Vespers 6pm | | | |
| Sun | 13 | | Remembrance Sunday: FAURE's Requiem 11am | II | 9:00am | Joseph Murphy & Family |
| | | | 5pm Vespers and Benediction of the | | 11:00am | All St. Mary's Faithful |
| | | | Blessed Sacrament | | 6:00pm | Irene Kovacs RIP |
| Mon | 14 | | St Josaphat, Bishop Martyr | III | 12:10pm | Matthew Lowe |
| Tue | 15 | | St. Albert the Great, Bishop Confessor Doctor | III | 12:10pm | Marian Jowers |
| Wed | 16 | | St. Edmund of Canterbury, Bishop Confessor | III | 12:10pm | Victoria Rodrigues RIP |
| | | | Men's Group 7:45-9:15pm | | 7:00pm | Men of St. Mary's |
| Thur | 17 | | St. Gregory Thaumaturgus, Bishop Confessor | III | 12:10pm | Riley Michael Jones |
| Fri | 18 | | Dedication of Basilicas of Sts. Peter and Paul | III | 12:10pm | Sr. Wule Zhi Yuen |
| Sat | 19 | | St. Elizabeth, Widow Ladies Group 1pm | III | 12:10pm | Ladies of St. Mary's |
| | | | Adoration & Confessions 10.00-12.00 Vespers 6pm | | | |
| Sun | 20 | | 24th and Last Sunday after Pentecost | II | 9:00am | Patricia & Ronald Jones |
| | | | 5pm Vespers and Benediction of the | | 11:00am | Preservation Latin Mass,FSSP |
| | | | Blessed Sacrament | | 6:00pm | Maria Rosa |