March 15, 2019
Click here to open this bulletin as pdf.
BULLETIN of ST MARY'S SHRINE
17th – 31st March 2019   Fortnightly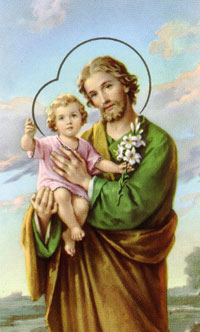 www.fssp.co.uk/warrington • 01925 635664
Watch our Mass daily on http://livemass.net/
Buttermarket Street, Warrington WA1 2NS
Served by the Priestly Fraternity of St Peter
by appointment of the RC Archdiocese of Liverpool
Rector: Fr Armand de Malleray, FSSP: malleray@fssp.org
Assistant: Fr Konrad Loewenstein, FSSP: padrek@libero.it
Assistant: Fr Ian Verrier, FSSP: iverrier@fssp.org
Holy Masses: Sunday 11am & 6pm; Mon-Sat 12:10pm daily.
Confessions 30mins before every Mass every day
– including from 5:30pm before 6pm Sunday Mass and on Saturdays 10am-11:45am during Eucharistic Adoration.
Daily Rosary 11:30am Mon-Fri, 11am Sat. Followed by the Angelus. SUPPORT—Bank details: Account name: FSSP Warrington. Account number: 30993368. Sort Code 30-80-27; Lloyds Bank, Palmerston Road Branch. Ask us for Gift Aid forms and envelopes: warrington@fssp.org. Registered Charity number 1129964
Safeguarding: Children, teenagers and vulnerable adults must be accompanied or supervised at all times within the Shrine. If you have concerns, please contact the Archdiocesan Safeguarding Department on 0151 522 1043 or e-mail safeguarding@rcaol.co.uk, or speak with Clare Fraser, St Mary's Safeguarding Officer. Thank you for your awareness.
Pro-life: Every last Saturday, 10:15am. Coordinator: Peter Boyle: p.boyle400@btinternet.com
Choir: Contact Fr Verrier for an audition if you would like to join our choir – including Junior choir: iverrier@fssp.org
☞To receive Holy Communion: one must be a Catholic, in state of grace, one-hour fasting at least. In the EF liturgy, Holy Communion is received kneeling (unless unable to) and always on the tongue. Thank you in advance.
☞ Did you know? St Mary's Shrine costs £1,444/week to run and maintain. Your generosity is greatly appreciated.
Our quarterly magazine Dowry is available online and soon in print: https://fssp.co.uk/category/dowry/
 Adults curious to know more about Catholicism? Join our Saturday evening group of catechism for adults: most Saturdays 6pm-7pm, with Fr Loewenstein. Contact: padrek@libero.it
---
Lenten Recollection Day for All: on Sat. 30th  March
at St Mary's Warrington, join us for Eucharistic Adoration & Confessions, Spiritual Conferences and picnic.
10.00-11.25 am: Adoration of the Blessed Sacrament/Benediction and Confession in the Church.
11.30 -12 noon: Talk by Fr Loewenstein on: The Passion of the Lord
12.10 pm: Holy Mass
1.15 – 2.20 pm: Bring Your Own picnic lunch (nothing that needs heating)
2.30 – 3.00 pm: Talk by Fr de Malleray on: Turning Trials into Merits & Intercession
3.15 – 3.45pm: Stations of the Cross led by priest
---
Addicts: To all concerned, or in any way associated with addictions to drugs, alcohol: help is available with a very high success rate. Free. We meet at St Mary's Warrington WA1 2NS every month, last Saturday at 1pm. Confidential phone contact: 07916578902.
40 DAYS FOR LIFE (MANCHESTER) From 6th March to 14th April, you're invited to join 40 Days for Life – 40 days of prayer and fasting for an end to abortion.  You're also invited to stand and peacefully pray during a 40-day vigil on the pavement opposite Marie Stopes abortion clinic in Fallowfield, Manchester, and also to help spread the word about this important work.  If you'd like more information – and especially if you'd like to volunteer, please visit www.40daysforlife.com/local-campaigns/manchester-2/ or call 07810 791032
---
Young Adults Group: Next dates: 6 April; 11 May [March For Life]; 1st June; 6 July.
Great Pro-Life events with sponsorship from St Mary's: p.boyle400@btinternet.com.
SPUC Youth Conference 15-17 March 2019 Milton Keynes. Booking/info: www.spuc.org.uk With Fr Armand de Malleray, FSSP
March for Life, London Sat. 11th May 2019.


---
Clergy Retreat 13-17 May 2019, Douai Abbey, £333.00, with Fr de Malleray, FSSP.
Already 7 priests booked in. More spaces available.
---
Pentecost Pilgrimage to Chartres 7-11 June 2019. Your contact for St Mary's and the North West: Conor Jones: conorjj79@gmail.com. Join our young (and less young) adults, with Fr Patrick O'Donohue, FSSP (based in Reading). Book early for LMS sponsorship. Contact: chartresuk.blogspot.com/
Summer Camps 2019 for children aged 10-13 & 14-17 in Macclesfield SK10 5RW: Boys 5-10 Aug; Girls 12-17 Aug. Contact priest: odonohue@fssp.org
St Mary's young families group, usually takes place on the third Thursday of each month. All ages welcome! Meet in the presbytery after the 12:10 Mass with your picnic.
Mass Intentions:  Other Holy Masses are offered in private for: Catherine Preston RIP, Cheryl Swift, Rita Corcoran, Patricia Jones, Colin Jones, Emmanuel Keenan, Colette Hanna
Sun 17
2nd Sunday of Lent  [St Patrick]
11:00am

6:00pm

Audrey & Colin Jones

John Hesketh

Mon 18
Feria of Lent, commem. St Cyril of Jerusalem

Stations of the Cross for Priests 1pm

12:10pm
Ethel Bennett RIP
Tue 19

St. Joseph

1st Class, commem. of  Lent
12:10pm
Pope Benedict
Wed 20
Feria of Lent, commem. of Pope & St. Cuthbert

Mothers' Prayer Group 1pm

12:10pm
Kathleen Carter RIP
Thu 21
Feria of Lent, commem. of St. Benedict
12:10pm
Diane Oxberry RIP
Fri 22
Feria of Lent

Stations of the Cross after Mass

12:10pm
Catherine O'Leary RIP
Sat 23
Exposition of the Blessed Sacrament

Feria of Lent

10:00am

12:10pm

Families

Gareth McSorley RIP

 Sun 24
3rd Sunday of Lent
11:00am

6:00pm

Edith O'Leary RIP

David Davies RIP

Mon 25

The Annunciation

1st Class, commem. of Lent

Stations of the Cross for Priests 1pm

12:10pm

7:00pm

FSSP priests

Mary & Francis Connolly

Tue 26
Feria of Lent
12:10pm
Martin Staddon RIP
Wed 27
Feria of Lent commem. St. John Damascene

Mothers' Prayer Group 1pm

12:10pm
Kevin King
Thu 28
Feria of Lent commem. St. John Capistrano
12:10pm
Barbara La Bross & family
Fri 29
Feria of Lent

Stations of the Cross after Mass

12:10pm
Kirsty & Patrick Parkinson
Sat 30
Lenten Day of Recollection for all (see schedule)

Feria of Lent

10:00am

12.10pm

St Mary's Shrine

Sarah Parkinson

Sun 31
4th Sunday of Lent (Laetare)
11:00am

6:00pm

Br. Kieran OFM

Bernadette Keenan