December 17, 2022
WELCOME TO OUR VISITORS THIS CHRISTMAS!
Frs de Malleray, Verrier, Stewart and Quirke, with Fr Jolly, wish you a blessed feast of the Nativity of the Lord and assure you of their prayer at the altar. They thank you for your dedication and support to the liturgical, devotional and material life at St Mary's Shrine.
CONFESSIONS: 24 Dec: 11:40am-12:05pm; 11:00pm-11:50pm; 25 Dec: 10:30am-10.55am
Kindly consider:
☞Attending Holy Mass at Christmas is a grave obligation for every able Catholic.
☞To receive Holy Communion: one must be a Catholic, in the state of grace, one-hour fasting at least. In the traditional liturgy, Holy Communion is received kneeling (unless unable to) and always on the tongue. Thank you in advance.
☞FSSP clergy do not retain Christmas and Easter collections for personal use. All Christmas collections will be used for the day-to-day running of St Mary's Shrine (which includes the food, lodgings, pension allowance and salary of your priests). Should you wish to donate money to the clergy, kindly specify it on your envelope.
☞ What else to give our clergy? Thank you for your gifts in kind. If in bottles: red or white wines are best because they can be shared at meals on Sundays and feasts. Thank you!
☞ Most clergy will be on vacation from 25th Dec after Vespers. Kindly postpone all non-essential requests until Sunday 1st Jan. Daily Mass and confessions continue as normal.
St Mary's Shrine Church Bulletin
18 Dec 2022-1 Jan 2023 (fortnightly)
Smith Street, Warrington, Cheshire, WA1 2NS, England
Served by the Priestly Fraternity of St Peter by appointment from the RC Archdiocese of Liverpool
01925 635664 fssp.org.uk/warrington facebook.com/fssp.england
Rector: Fr Armand de Malleray, FSSP malleray@fssp.org; Assistants: Fr Ian Verrier, FSSP (also Choir & Organ) iverrier@fssp.org; Fr Alex Stewart, FSSP (any Mass bookings) astewart@olgseminary.org; Fr Gerard Quirke: frquirke@outlook.com; Visiting Priest: Fr Andrew Jolly; Shrine Secretary: Mrs Jane Wright: warrington@fssp.org
---
Receive this newsletter by email https://fssp.org.uk/manageprofile/index.php
---
Daily Holy Mass readings: www.divinumofficium.com/cgi-bin/missa/missa.pl
Vespers: https://www.divinumofficium.com/cgi-bin/horas/officium.pl
---
Opening Times:
Sundays: 8:30am to 7:00pm
3 Sunday Holy Masses 9:00am, 11:00am & 6:00pm;
Sung Vespers & Benediction 5:00pm; Confessions 8:30am-8:55am, 10:30am-10:55am & 5:30pm-5:55pm
Weekdays: 9:00am-6:20pm (Confessions 11:40am-12:05pm; Holy Mass 12:10pm)
Saturdays: 9:00am-6:20pm (Eucharistic Adoration 10:00am-12noon, with Confessions 10:05am-11:45am; Holy Mass 12:10pm); Sung Vespers 6:00pm
Confessions 30mins before every Mass every day
Holy Rosary Mon-Fri 11:30am; Sat 11am; Sun 4:30pm
Stations of the Cross Mon & Fri, 1:00pm
Mothers' Prayer Group: Wed 1:00pm
Holy Souls Prayer Group: every Tuesday 1:00pm
Church & Priory Court car parks for Shrine visitors
Bookshop Unit 3 Open Sun 12:25pm-1:00pm.
Daily Holy Mass online with homily: on LiveMass.net > Warrington: Sun 11:00am; Mon-Sat 12:10pm, and the same on demand 24hrs after 3pm upload for weekday Masses, and over 7 days for latest Sunday Mass.
Eucharistic Adoration: Sun 5:30pm; Sat 10:00am-12noon; 1st Fri 7:40pm-8:40pm; most Wed. afternoon after classes
Men's group: Monthly 7:00pm Mass + Talk
St Mary's Academy: Mon and Thu 8:30am-3:30pm
---
All must dress modestly in church out of reverence for God and of respect for fellow-worshippers. Kindly switch OFF your mobile phone before you enter the church. Thank you in advance.
---
Safeguarding: If you have concerns about children or vulnerable adults, please contact the Archdiocesan Safeguarding Department: m.robson@rcaol.org.uk or 0151 522 1013, or speak with Clare Fraser, St Mary's Safeguarding Officer. Thank you for your awareness.
---
St Mary's viewed from America: Rachel Schrader, British-born Catholic journalist who visited us last September wrote a great article on St Mary's Shrine : https://www.goodcatholic.com/the-british-bells-of-st-marys-an-american-finds-home-on-an-english-street/.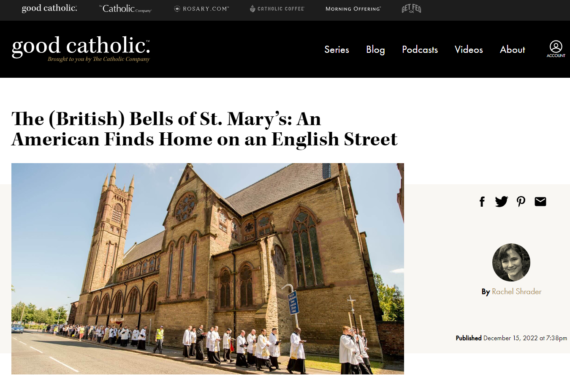 ---
Priory Court Project: please pray for an important decision to be made shortly, please God.
---
FSSP Superior General visits Warrington clergy: For the first time since the Covid interruption, Fr Andrzej Komorowski, FSSP was able to visit the priests at St Mary's Priory in Warrington, as part of a customary triennial visitation of our houses in Reading, Warrington and Edinburgh. The Superior General spent time with every priest to hear how they are doing in community life and in their ministry.
On a further occasion, a meeting with the parishioners will be planned, but there was not enough time this week before Fr Komorowski flew back for a Council meeting in Switzerland – before flying to our parish in Nigeria where he will spend Christmas under a much, much warmer climate than we had here this week.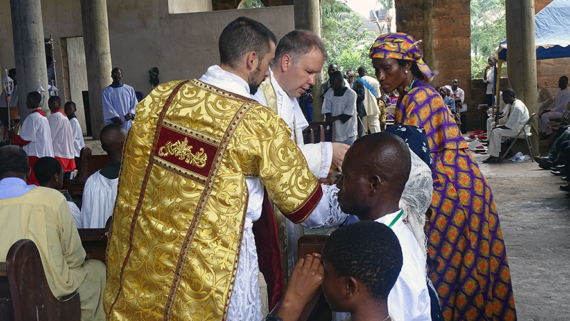 Fr Komorowski knows well our part of the world, having served in England in 2008 (London and Bedford), and having stayed many times in Ireland. Please pray for him and for all superiors.
Welcome to our seminarians on holiday from 26th December. We hope to catch up with David in Warrington. Please pray for many more priests! Visit https://fssp.org.uk/about-the-confraternity/
---
Sick priest: Fr Krzysztof Sanetra, FSSP, who was ordained in our church with Fr Stewart on 17 June 2017 was diagnosed with severe lung infection and remained in hospital in a critical condition for several weeks. Thankfully he is cured and about to return to Canada to resume his priestly ministry there.
---
Shrine expenses grow quicker than income. This is not surprising since our parishioners are affected by the economic difficulties. However, if you are in a position to contribute personally or to alert benefactors on our needs, even though they don't live in Warrington, please share our bank account details below with them this Advent and Christmas.
Thank you for helping us through the Offertory collection and standing orders. Should any parishioner be in serious financial difficulty, let them contact the Shrine clergy confidentially.
Support St Mary's Shrine: send your donation via our Donate page: https://fssp.co.uk/donate/. Ask us for a Gift Aid form to increase your donation by 25% at no extra cost to you. Gift Aid envelopes can be obtained from our Secretariat. Standing orders are easier and quicker for us to process than cash: Lloyds Bank; Sort Code: 30-80-27; Account number: 30993368. Account name: FSSP Warrington
---
Now 762 subscribers to St Mary's YouTube channel: Homilies for Sundays and major feasts are uploaded regularly. Visit www.youtube.com/channel/UC_NVY7jpDIhANiwjng1gN0w
Watch homily on the Immaculate Conception here: https://www.youtube.com/watch?v=j_lC9WG2m9E
---
Pray for: Michelle Brazier-Huelsman, Anne Drury,Deryck Sankey, Ray Cilia, James H., Tim Wright, Michael Leacy, Wendy Moss, Bill Conder, Greta Doyle, Dorothea Wallace, M. Hawley; Theresa Reynard, Hilda Creagan. RIP: We were recently informed that Lilian Reay, a long-time choir member of St Mary's before the FSSP took over, passed away last October. Pray for her soul and for those of Ana Mary Rozo, Peter Wright, Fr John Gildea; Ann Evans; Michael Whelan; John Marechal.
| | | | | | |
| --- | --- | --- | --- | --- | --- |
| Sun | 18 | 4th Sunday of Advent | I | 9:00am | Christopher Crookall |
| | | 5pm Sung Vespers and Benediction of the | | 11:00am | All St. Mary's Faithful |
| | | Blessed Sacrament | | 6:00pm | David McGloughlin |
| Mon | 19 | Feria in Advent | II | 12:10pm | Deceased of Michelle Yau |
| Tue | 20 | Feria in Advent | II | 12:10pm | Fr Quirke |
| Wed | 21 | St. Thomas, Apostle | II | 12:10pm | John & Anne Norris RIP |
| Thur | 22 | Feria in Advent | II | 12:10pm | Fr Stewart FSSP |
| Fri | 23 | Feria in Advent | II | 12:10pm | Aaran Fegan |
| Sat | 24 | Vigil of the Nativity of Our Lord Adoration 10am-12noon | I | 12:10pm | Michael Leung & Family |
| | | Confessions 10:10am-11:45am; Vespers 6pm; Christmas Carols 11:30pm, with Confessions until 11:55pm | | | |
| Sun | 25 | The Nativity of Our Lord Jesus Christ | I | 00:00am | The Priory Court Project |
| | | 5pm Sung Vespers and Benediction of the Blessed | | 9:00am | Confraternity St. Peter Members |
| | | Sacrament. NO 6:00pm Mass this Sunday. | | 11:00am | All St. Mary's Faithful |
| Mon | 26 | St. Stephen, Protomartyr | II | 12:10pm | Patrick Keenan |
| Tue | 27 | St. John, Apostle and Evangelist | II | 12:10pm | Agnes & Sophia Chau |
| Wed | 28 | Feast of the Holy Innocents | II | 12:10pm | St. Mary's Pro-Life intentions |
| Thur | 29 | St. Thomas of Canterbury, Bishop, Martyr | I | 12:10pm | Sr Mari Caritas |
| Fri | 30 | 6th Day in the Octave of the Nativity of Our Lord | II | 12:10pm | Peter Hunt & Family |
| Sat | 31 | 7th Day in the Octave of the Nativity of Our Lord | II | 12:10pm | Graham Stamp |
| | | Adoration & Confessions 10.00-12.00 Vespers 6pm | | | |
| Sun | 1 | Octave Day of the Nativity of Our Lord | I | 9:00am | Sheila Stamp |
| | | 5pm Vespers and Benediction of the | | 11:00am | All St. Mary's Faithful |
| | | Blessed Sacrament | | 6:00pm | Terence Keenan |