May 17, 2023
Reminder: Ascension Thursday 18 May is a holy day of obligation. Every able Catholic must attend Holy Mass that day. At St Mary's, Holy Masses at: 8am; 12:10pm; 6pm.
St Mary's Shrine Church Bulletin 21 May-4 June 2023 (fortnightly)
Smith Street, Warrington, Cheshire, WA1 2NS, England
Served by the Priestly Fraternity of St Peter by appointment from the RC Archdiocese of Liverpool
01925 635664 fssp.org.uk/warrington facebook.com/fssp.england
Rector: Fr Armand de Malleray, FSSP malleray@fssp.org; Assistants: Fr Ian Verrier, FSSP (also Choir & Organ) iverrier@fssp.org; Fr Alex Stewart, FSSP (any Mass bookings) astewart@olgseminary.org; Fr Gerard Quirke, FSSP: frquirke@outlook.com; Visiting Priest: Fr Andrew Jolly; Shrine Administrator: Mrs Jane Wright: warrington@fssp.org; Secretarial Assistant: Mrs Kelly Williams:stmaryssecretary@fssp.org.
---
Receive this newsletter by email https://fssp.org.uk/manageprofile/index.php
---
Watch our daily Mass with homily on www.livemass.net/locations/warrington.html
---
Daily Holy Mass readings: www.divinumofficium.com/cgi-bin/missa/missa.pl
Vespers: https://www.divinumofficium.com/cgi-bin/horas/officium.pl
---
OPENING TIMES
Sundays: 8:30am to 7:00pm
3 Sunday Holy Masses 9:00am, 11:00am & 6:00pm.
Sung Vespers & Benediction 5:00pm; Confessions 8:30am-8:55am, 10:30am-10:55am & 5:30pm-5:55pm
Weekdays: 9:00am-6:20pm (Confessions 11:40am-12:05pm; Holy Mass 12:10pm)
Saturdays: 9:00am-6:20pm (Eucharistic Adoration 10:00am-12noon, with Confessions 10:05am-11:45am; Holy Mass 12:10pm); Sung Vespers 6:00pm
Confessions 30mins before every Mass every day
Holy Rosary Mon-Fri 11:30am; Sat 11am; Sun 4:30pm
Stations of the Cross Mon & Fri, 1:00pm
Mothers' Prayer Group: Wed 1:00pm
Holy Souls Prayer Group: every Tuesday 1:00pm
Church & Priory Court car parks for Shrine visitors
Bookshop Unit 3 Open Sun 12:25pm-1:00pm.
Daily Holy Mass online with homily: on LiveMass.net > Warrington: Sun 11:00am; Mon-Sat 12:10pm, and the same on demand 24hrs after 3pm upload for weekday Masses, and over 7 days for latest Sunday Mass.
Eucharistic Adoration: Sun 5:30pm; Sat 10:00am-12noon; 1st Fri 7:40pm-8:40pm; most Wed. afternoon after classes
Men's group: Monthly 7:00pm Mass + Talk
St Mary's Academy: Wed
---
All must dress modestly in church out of reverence for God and of respect for fellow-worshippers. Kindly switch OFF your mobile phone before you enter the church. Thank you in advance.
---
Safeguarding: If you have concerns about children or vulnerable adults, please contact the Archdiocesan Safeguarding Department: m.robson@rcaol.org.uk or 0151 522 1013, or speak with Kelly Williams, St Mary's Safeguarding Officer. Thank you for your awareness.
---
Mondays Toddlers' Group replaced with Playgroup for 0-4 years olds, every Wednesday at 9:30am till 11:30am – please contact Carla Cilia for details carlagcilia@gmail.com.
---
Pray for FSSP seminarians Miklos Homolya from the UK and Gideon Zoonen who served on our UK Summer camps, both ordained deacons on Sat. 20th May. Some of our parishioners will represent St Mary's Shrine.
---
Banns of marriage between Henry Walker & Lucienne Cotton (1 July); Demetri Newman-Brown & Maisie Szakaley (5 Aug); Adam Wallace & Bernadette Cunningham (26 Aug).
---
Juventutem Warrington youth group 18-35: monthly trek, chat, picnic, Holy Mass. Cf facebook.com/juventutem.warrington.
Contact juventutemwarrington@gmail.com.
---
Priory Court: please pray for the missing £0.5M to be sent us, that we may complete our Shrine facility. Pleaser ask the Venerable Elizabeth Prout for a miracle donation!
---
Fr Ian Verrier, FSSP unwell for a few months, is now recuperating in Warrington. He will not resume his pastoral commitments until some weeks, therefore please do not contact him for pastoral needs until further notice. Thank you for your prayers.
---
Fr de Malleray is in the Holy Land until Pentecost and will present the prayer intentions of St Mary's Shrine in the Holy Places.
[Picture: Unsplash/Jonny Gios]
---
Converts' class: interested in Catholicism? Contact us to meet with a priest and fellow inquirers.Formation cycle will start again in September.
---
We had a grace-filled pilgrimage to Walsingham Pilgrimage last 7-8 May. There is interest for having it again next year, with 2 nights on site. Thank you to those who generously sponsored pilgrims.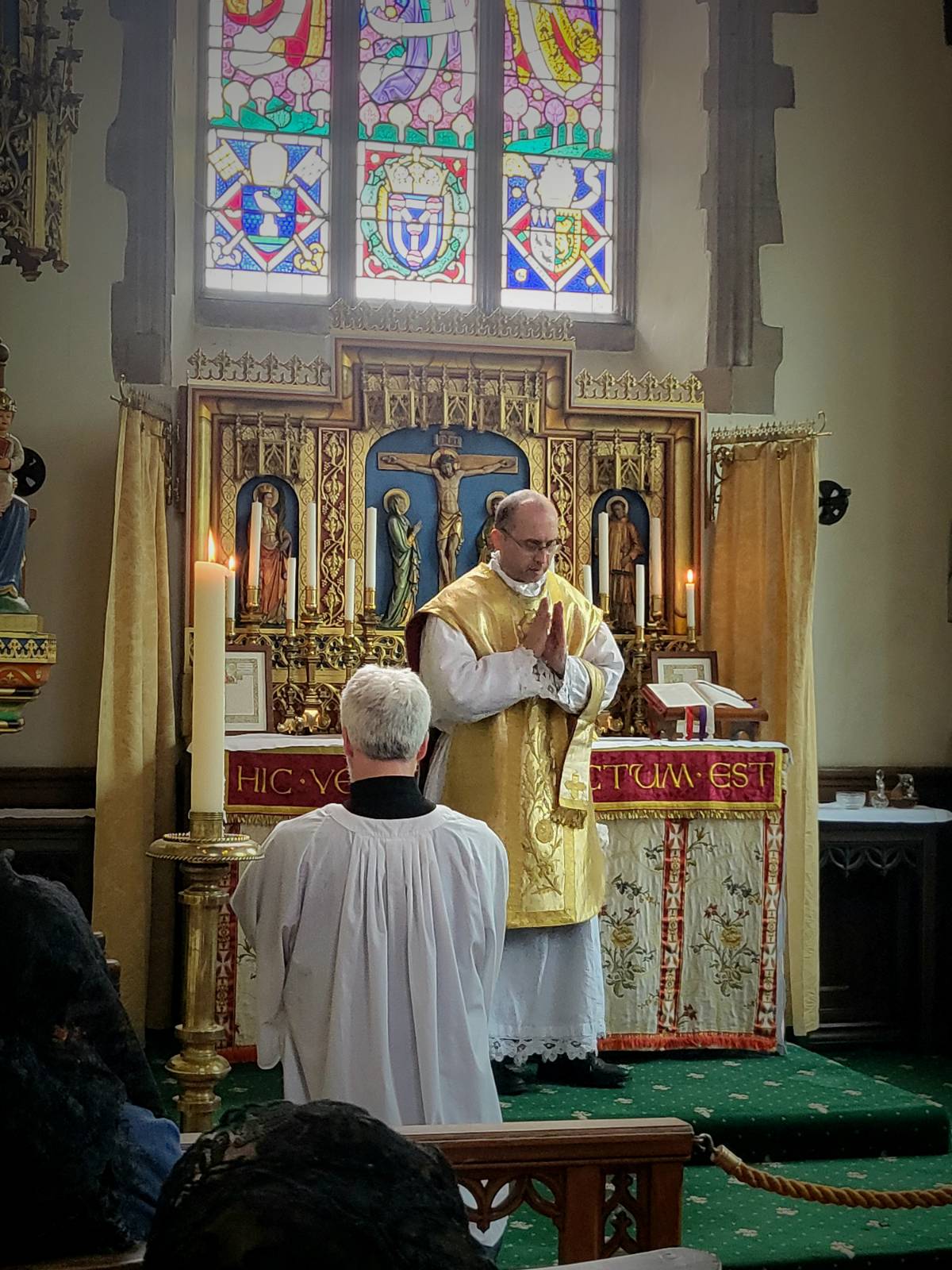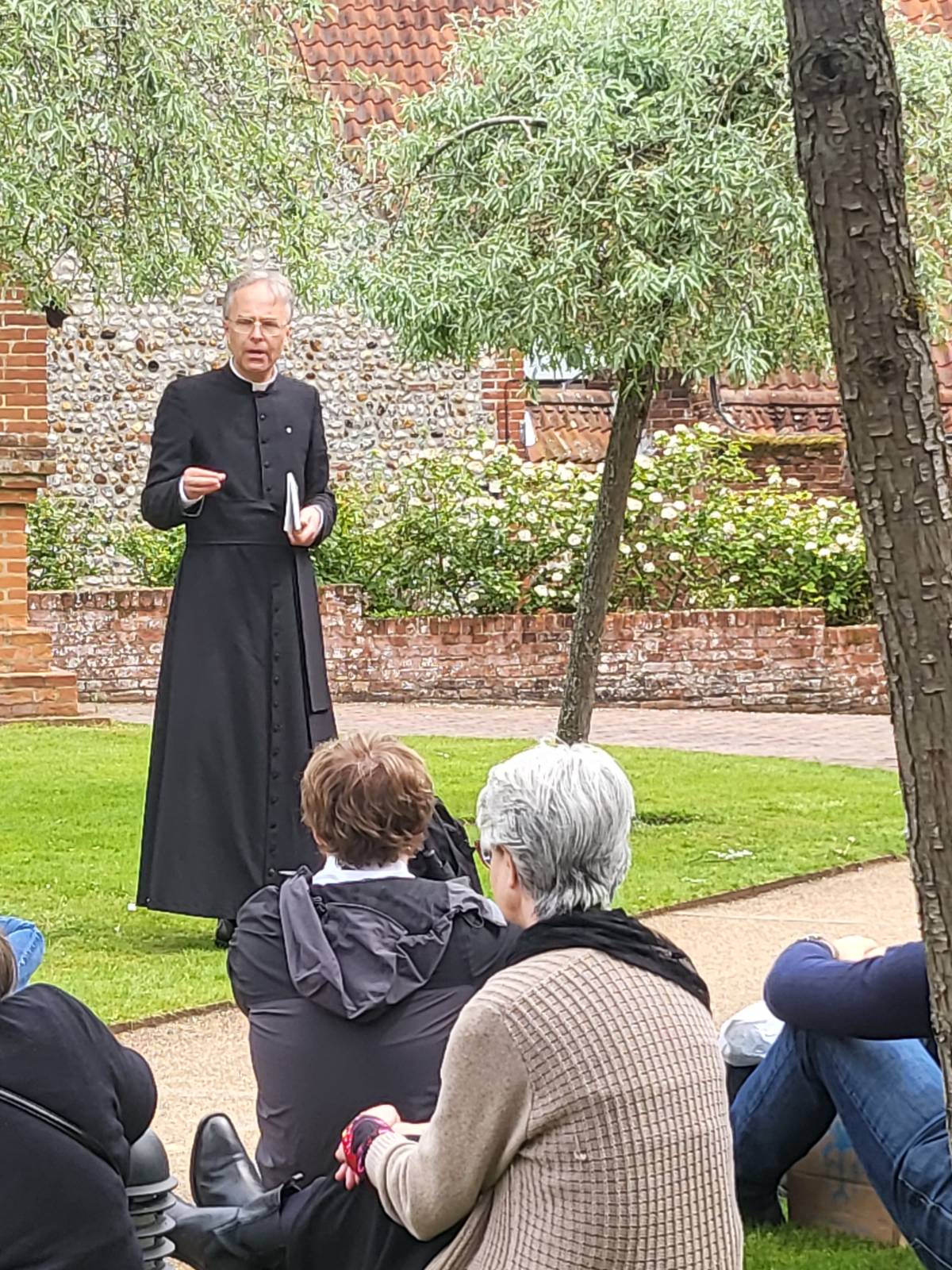 ---
Men's Group: 17 May, 21 Jun, 12 July.
Ladies' Group: 17 Jun
---
Trek on Ascension Day 18 May: climb Kinder Scout in the Peak District: m.hall@talk21.com.
St Andrew's Pilgrimage 29-31 July: annual pilgrimage from Edinburgh to St Andrews: 55 miles. Contact Michael Hall: m.hall@talk21.com.
---
Sacrament of CONFIRMATION by Archbishop McMahon on Sat 24th June 2023 at 3:00pm.
Family Sunday on 25th June with PRO-LIFE FETE & ACADEMY PRESENTATION. After the 11am High Mass, shared picnic in Presbytery Garden/new Shrine Hall. Pro-life talk and Academy presentation by the staff of St Mary's Academy. No booking needed. Every one welcome, especially families.
---
Shrine Pilgrimage to Holywell on Sat 8th July. Bus departs 10am; Holy Mass 11am; Relics 12:30pm. Book your seat on the bus now: stmaryssecretary@fssp.org.
---
BOOK NOW for the great Juventutem Summer Weekend 21-23 July at Ampleforth Abbey!
For any young Catholics 18-35.
Take part in a great social, doctrinal, spiritual and relaxing time with Fr de Malleray, FSSP, several FSSP seminarians and up to 60 young adults and young professionals.
Book now at: bit.ly/juventutem2023
or: juventutemldn@gmail.com.
---
Thank you for helping us through the Offertory collection and standing orders. Should any parishioner be in serious financial difficulty, let them contact the Shrine clergy confidentially.
Support St Mary's Shrine: send your donation via our Donate page: https://fssp.co.uk/donate/. Ask us
for a Gift Aid form to increase your donation by 25% at no extra cost to you. Gift Aid envelopes can be obtained from our Secretariat. Standing orders are easier and quicker for us to process than cash: Lloyds
Bank; Sort Code: 30-80-27; Account number: 30993368. Account name: FSSP Warrington
---
Chartres Pilgrimage 2023 Pentecost Weekend 26-30 May 2023: Register asap:m.halll@talk21.com.
---
Now 878 subscribers to St Mary's YouTube channel: Main homilies are uploaded regularly: youtube.com/@stmaryswarringtonyoutubech6943.
---
Pray for: Terry Drury, Michelle Brazier-Huelsman,James H., Bill Conder, Greta Doyle, Dorothea Wallace, M. Hawley; Theresa Reynard. RIP: Rita Hall; Hilda Creagan, Ana Mary Rozo, Ann Evans, Michael Whelan; John Marechal.

Sun
21
Sunday after the Ascension
I
9:00am
Michael Giverin RIP
5pm Vespers and Benediction of the
11:00am
All St. Mary's Faithful
Blessed Sacrament
5:00pm
Christina Pomfrey RIP
Mon
22
Feria
IV
12:10pm
Elsie Olbinson
Tue
23
Feria
IV
12:10pm
Deceased Givern&Berry families
Wed
24
Our Lady Help of Christians (feria)
IV
12:10pm
John Finan RIP
Thur
25
St. Gregory, Pope, Confessor
IV
12:10pm
Riley Michael Jones
Fri
26
St. Augustine of Canterbury, Bish. Conf.
II
12:10pm
Donor's Son
Sat
27
Vigil of Pentecost Adoration & Confessions 10am-12noon.
I
12:10pm
Thanksgiving St. Joseph
Sun
28
Pentecost
I
9:00am
Peter Lukacs
5pm Vespers and Benediction of the
11:00am
All St. Mary's Faithful
Blessed Sacrament
6:00pm
Donor's Daughter
Mon
29
Whit Monday
I
12:10pm
Martin Oravik RIP
Tue
30
Whit Tuesday
I
12:10pm
Harold Wilde RIP
Wed
31
Whit Wednesday Ember Wednesday
I
12:10pm
Conor Flood
Thur
1
Whit Thursday
I
12:10pm
Angelo Bonaccurso RIP
Fri
2
Whit Friday Ember Friday
First Friday Mass & Holy Hour (updated)
I
12:10pm
7:00pm
Francis Hall
Celebrant's intention
Sat
3
Whit Saturday Ember Saturday
I
Riley Michael Jones
Adoration & Conf. 10am-12noon.Vesp. 6pm
10:00am
Sun
4
Feast of the Most Holy Trinity
I
9:00am
Stephen Skilling
5pm Vespers and Benediction of the
11:00am
All St. Mary's Faithful
Blessed Sacrament
6:00pm
Paul & Ursula Cavanagh