May 10, 2018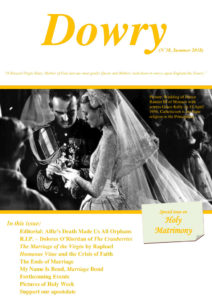 On this Feast of the Ascension of the Lord, the Priestly Fraternity of St Peter is pleased to introduce the Summer issue of our quarterly magazine Dowry (Summer 2018, No38).
SPECIAL ISSUE ON HOLY MATRIMONY
The layout is designed to be looked at as a double page: make sure to select this display on your pdf reader.
Click on the cover of the magazine to open the 4.2Mo pdf file.