January 27, 2023
St Mary's Shrine Church Bulletin 29 Jan-12 Feb 2023 (fortnightly)
Smith Street, Warrington, Cheshire, WA1 2NS, England
Served by the Priestly Fraternity of St Peter by appointment from the RC Archdiocese of Liverpool
01925 635664 fssp.org.uk/warrington facebook.com/fssp.england
Rector: Fr Armand de Malleray, FSSP malleray@fssp.org; Assistants: Fr Ian Verrier, FSSP (also Choir & Organ) iverrier@fssp.org; Fr Alex Stewart, FSSP (any Mass bookings) astewart@olgseminary.org; Fr Gerard Quirke: frquirke@outlook.com; Visiting Priest: Fr Andrew Jolly; Shrine Administrator: Mrs Jane Wright: warrington@fssp.org; Secretarial Assistant: Mrs Kelly Williams:stmaryssecretary@fssp.org.
---
Receive this newsletter by email https://fssp.org.uk/manageprofile/index.php
---
Daily Holy Mass readings: www.divinumofficium.com/cgi-bin/missa/missa.pl
Vespers: https://www.divinumofficium.com/cgi-bin/horas/officium.pl
---
OPENING TIMES
Sundays: 8:30am to 7:00pm
3 Sunday Holy Masses 9:00am, 11:00am & 6:00pm.
Sung Vespers & Benediction 5:00pm; Confessions 8:30am-8:55am, 10:30am-10:55am & 5:30pm-5:55pm
Weekdays: 9:00am-6:20pm (Confessions 11:40am-12:05pm; Holy Mass 12:10pm)
Saturdays: 9:00am-6:20pm (Eucharistic Adoration 10:00am-12noon, with Confessions 10:05am-11:45am; Holy Mass 12:10pm); Sung Vespers 6:00pm
Confessions 30mins before every Mass every day
Holy Rosary Mon-Fri 11:30am; Sat 11am; Sun 4:30pm
Stations of the Cross Mon & Fri, 1:00pm
Mothers' Prayer Group: Wed 1:00pm
Holy Souls Prayer Group: every Tuesday 1:00pm
Church & Priory Court car parks for Shrine visitors
Bookshop Unit 3 Open Sun 12:25pm-1:00pm.
Daily Holy Mass online with homily: on LiveMass.net > Warrington: Sun 11:00am; Mon-Sat 12:10pm, and the same on demand 24hrs after 3pm upload for weekday Masses, and over 7 days for latest Sunday Mass.
Eucharistic Adoration: Sun 5:30pm; Sat 10:00am-12noon; 1st Fri 7:40pm-8:40pm; most Wed. afternoon after classes
Men's group: Monthly 7:00pm Mass + Talk
St Mary's Academy: Mon and Thu 8:30am-3:30pm
---
All must dress modestly in church out of reverence for God and of respect for fellow-worshippers. Kindly switch OFF your mobile phone before you enter the church. Thank you in advance.
---
Safeguarding: If you have concerns about children or vulnerable adults, please contact the Archdiocesan Safeguarding Department: m.robson@rcaol.org.uk or 0151 522 1013, or speak with Clare Fraser, St Mary's Safeguarding Officer. Thank you for your awareness.
---
PRIORY COURT CONVERSION: GEARING UP!
Further to the news that we have given the go ahead for the first phase of conversion work on Priory Court, you may have noticed the contractors are now on site. Whilst we aim to keep disruption to a minimum, some temporary changes are of course necessary and will affect the activities and groups currently using the building and safety across the site. An immediate impact is that parking has been significantly reduced so please consider alternatives such as the church carpark or the Cockhedge Centre (2 hours free) especially on weekdays when the neighbouring offices are also using the site.
Please ensure children are supervised and escorted at all times when crossing the car park from Priory Court to the church. Whilst deliveries will be kept outside busy periods, vans manoeuvring do not have the same visibility making pedestrian conflict more of a risk. Adults too should be vigilant of course.
All activities are now restricted to using Unit 1 with most having to re-locate to the top floor for the duration of the build. A smaller area will be kept operational on the ground floor for those unable to access the upper floor.
We are arranging TWO OPEN SESSIONS with plans and drawings available for your perusal plus the project team on hand to answer any questions. These will be held on:
Wednesday 8th Feb between 1-3pm downstairs in Unit 1, and
after the 11am Mass on Sunday 12th Feb, between 12.30 – 1.30pm.
The plans will also be on display in the narthex at other times so please come and see what the new hall will look like.
Further updates will be announced and published on the website so do keep a check for any changes. Thank you for your cooperation. As explained in the original announcement, there remains a funding deficit and whilst the focus of these events is to provide information and get feedback on the project, any suggestions for ongoing fundraising and further donations are equally welcome.
---
Thank you on behalf of SPUC for your generous support last Sunday for the White Flower appeal. You donated £344.66 to protect unborn children!
---
The Sacrament of CONFIRMATION will be administered by His Grace Archbishop McMahon OP of Liverpool on Saturday 24th June 2023 at 3:00pm. Candidates must register by 15th February with stmaryssecretary@fssp.org.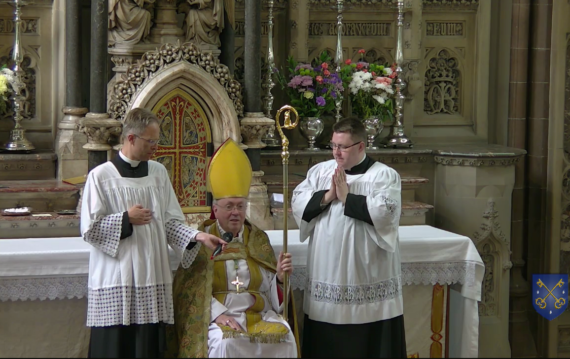 Also for First Communion: register now.
---
St Mary's playgroup – toys, crafts, games, singing and prayers – for 0-4 year olds. Every Monday and Wednesday 9:30 till 11:30 during term time.
Please contact for details Rebecca Bowen – rebeccamarybowen@outlook.com or Carla Cilia – carlagcilia@gmail.com.
---
Pray for our seminarian from the UK Miklos, who will be ordained a Subdeacon in Germany on 11th Feb. Fr de Malleray will represent St Mary's Shrine.
---
Converts' class Saturdays 5pm. Catholics willing to improve their faith are welcome as well. Contact Fr Quirke: frquirke@outlook.com.
---
SHRINE PILGRIMAGE TO WALSINGHAM:
Sun 7th-Mon 8th May 2023.
Minimum cost per person: £83 (includes return bus trip + shared room + breakfast). Based on at least one bus with 50 pilgrims. Final cost will depend on number of pilgrims. Please book now with Kelly Williams stmaryssecretary@fssp.org. Mon 8th May is a bank holiday. There will be Holy Mass each day of the pilgrimage, devotions, confessions, talks, meals and walks.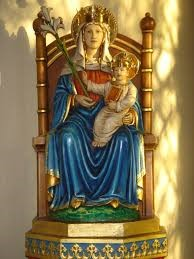 ---
Ask the Ven. Elizabeth Prout for miracles!
She founded the female branch of the Passionists, who ran St Mary's school for decades. In agreement with Archbishop McMahon her order wrote to us to promote her cause for beatification inviting us to request miracles:
1) through her exclusive intercession;
2) proven;
2) scientifically inexplicable;
4) cure instantaneous, perfect and lasting.
Address report to Sr Dominic Savio, Cross & Passion Convent, Convent Lodge, 19 East Beach, Lytham, FY8 5EU.
---
Click on picture to open pdf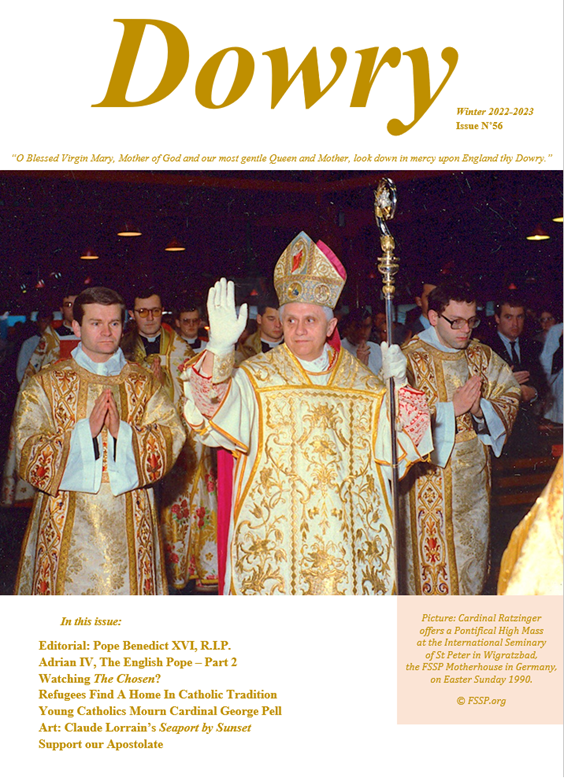 In this issue:
Editorial: Pope Benedict XVI, R.I.P.
Homily at the Solemn Mass of Requiem for Pope Benedict XVI on 7 January 2023 in Warrington. Fr de Malleray expresses gratitude for the fruitful ministry of Pope Benedict XVI. He recalls his involvement in the founding of the FSSP as Cardinal Ratzinger; during the papal interregnum, his uncompromising diagnosis of the woes of the Church; his unexpected election to the sovereign pontificate; his support of the traditional Roman liturgy; and his successful visit in Great Britain in 2010. R.I.P.
Adrian IV, The English Pope – Part 2
In this second instalment (continued from Dowry N°54, Summer 2022), young convert and historian Adam Mercer describes the life of the only English Pope so far, from his election onward. A courageous evangeliser in Scandinavia, Pope Adrian IV (Nicholas Breakspear) was caught into the never-ending political turmoil of the Middle-Ages, hindering his more fruitful theological activity.
Watching The Chosen?
Fr Armand de Malleray, FSSP discusses the flaws and merits of a successful series on the life of the Lord Jesus. How to bring the Good News of salvation to young people, most of whom spend several hours online every day on social media and watching series? Despite some defects, the highly successful series The Chosen can be an opportunity for evangelisation. May it spur solid Catholics to become involved in making many more good faith films.
Refugees Find A Home In Catholic Tradition
Whereas Catholicism used to prosper in Hong Kong, it is now under threat as part of the alleged "Western" influence targeted by Communist China. Like many families of late leaving Hong Kong, this father-of-two describes his journey to faraway but freer England, and his providential discovery of the traditional liturgy.
Young Catholics Mourn Cardinal George Pell
The late Cardinal Pell supported the young adults of the traditional youth movement Juventutem from the beginning. Whereas Catholics honour the memory of the courageous prelate for numerous reasons, his paternal encouragements to young people attached to the liturgy of our fathers are treasured by the Juventutem International Federation, and by all those who see these traditions as a vital enrichment for the Church universal.
Art: Claude Lorrain's Seaport by Sunset
Fr Armand de Malleray, FSSP comments on a painting by Claude Lorrain, 1639, from Le Louvre, Paris. Claude painted various harbours, delighting in exquisite renderings of sunset and sunrise over the waters, ships and shores. Despite the absence of explicit religious elements however, Claude's picture offers a meditation on the passing of time that spurs beholders to aspire to everlasting shores.
---
Men's Group: 15 Feb, 22 Mar, 19 Apr, 17 May, 21 Jun, 12 July. Ladies' Group: 28 Jan, 18 Feb, 25 Mar, 22 Apr, 13 May, 17 Jun
---
Shrine expenses grow quicker than income. This is not surprising since our parishioners are affected by the economic difficulties. However, if you are in a position to contribute personally or to alert benefactors on our needs, even though they don't live in Warrington, please share our bank account details below with them.
Thank you for helping us through the Offertory collection and standing orders. Should any parishioner be in serious financial difficulty, let them contact the Shrine clergy confidentially.
Support St Mary's Shrine: send your donation via our Donate page: https://fssp.co.uk/donate/. Ask us for a Gift Aid form to increase your donation by 25% at no extra cost to you. Gift Aid envelopes can be obtained from our Secretariat. Standing orders are easier and quicker for us to process than cash: Lloyds
Bank; Sort Code: 30-80-27; Account number: 30993368. Account name: FSSP Warrington
---
French Cath trad exchanges: 16-year-old boy 18 Feb-6 March. 17-year-old girl second half of July
---
Now 779 subscribers to St Mary's YouTube channel: Homilies for Sundays and major feasts are uploaded regularly. Visit www.youtube.com/channel/UC_NVY7jpDIhANiwjng1gN0w
---
Pray for: Michelle Brazier-Huelsman, Anne Drury,Deryck Sankey, Ray Cilia, James H., Tim Wright, Michael Leacy, Wendy Moss, Bill Conder, Greta Doyle, Dorothea Wallace, M. Hawley; Theresa Reynard, Hilda Creagan. RIP: Ana Mary Rozo, Peter Wright, Fr John Gildea; Ann Evans; Michael Whelan; John Marechal.
More intentions are used at private Masses. Kindly ask Fr Stewart for details.
Sun
29
4th Sunday of the Epiphany
II
9:00am
Ron & Ellen Parsons
5pm Vespers and Benediction of the
11:00am
All St. Mary's Faithful
Blessed Sacrament
6:00pm
John Leo RIP
Mon
30
St. Martina, Virgin Martyr
III
12:10pm
Josephine Puspanathan RIP
Tue
31
St. John Bosco, Confessor
III
12:10pm
Damian O'Neil
Wed
1
St. Brigid, Virgin
III
12:10pm
Mary Leo
Thur
2
Purification of the Blessed Virgin Blessing of candles and procession; 5:30pm Vespers
II
12:10pm
Reparation to Immac. Heart
6:00pm
Ellen Parsons RIP
Fri
3
St. Blaise, B M Blessing of throats
III
12:10pm
Patrick Jolly RIP
1st Friday Sacred Heart, Holy Hour
7:00pm
Kerry Lee
Sat
4
First Saturday Immaculate Heart Mass (St. A. Corsini BC) First Saturday Adoration & Confessions 10.00-12noon Vespers 6pm
III
12:10pm
Victoria Rodrigues
Sun
5
Septuagesima Sunday Music 2nd collection 5pm Vespers and Benediction of the Blessed Sacrament
II
9:00am 11:00am 6:00pm
Mona Rodrigues All St. Mary's Faithful Joanne & Andrew Annivers.
Mon
6
St. Titus, Bishop Confessor
III
12:10pm
Dorothea Wallace
Tue
7
St. Romuald, Abbot
III
12:10pm
D Parkinson
Wed
8
St. John of Matha, Confessor
NO men's group, but next Wed, 15th Feb.
III
12:10pm
Thanksgiving for blessings
Thur
9
St. Cyril of Alexandria
III
12:10pm
Levi Habimana
Fri
10
St. Scholastica, Virgin
III
12:10pm
Anthony Puspanathan RIP
Sat
11
Apparition of the Blessed Virgin in Lourdes (Subdiaconal ordination Seminarian Miklos in Wigratzbad)
III
12:10pm
Audrey Jones
Adoration & Confessions 10.00-12noon Vespers 6pm
Sun
12
Sexagesima Sunday
II
9:00am
Frank Blundell
5pm Vespers and Benediction of the
11:00am
Preserv Latin Mass,FSSP
Blessed Sacrament
6:00pm
Thanksgiving for Louise