July 1, 2023
St Mary's Shrine Church Bulletin 2-16 July 2023 (fortnightly)
Smith Street, Warrington, Cheshire, WA1 2NS, England
Served by the Priestly Fraternity of St Peter by appointment from the RC Archdiocese of Liverpool
01925 635664 fssp.org.uk/warrington facebook.com/fssp.england
Rector: Fr Armand de Malleray, FSSP malleray@fssp.org; Assistants: (Convalescing: Fr Ian Verrier, FSSP); Fr Alex Stewart, FSSP: astewart@olgseminary.org; Fr Gerard Quirke, FSSP: frquirke@outlook.com. Visiting Priest: Fr Andrew Jolly; Administrator: Mrs Jane Wright: warrington@fssp.org; Secretary: Mrs Kelly Williams:stmaryssecretary@fssp.org.
---
Receive this newsletter by email https://fssp.org.uk/manageprofile/index.php
---
Watch our daily Mass with homily on www.livemass.net/locations/warrington.html
---
Daily Holy Mass readings: www.divinumofficium.com/cgi-bin/missa/missa.pl
Vespers: https://www.divinumofficium.com/cgi-bin/horas/officium.pl
---
OPENING TIMES
Sundays: 8:30am to 7:00pm
3 Sunday Holy Masses 9:00am, 11:00am & 6:00pm.
Sung Vespers & Benediction 5:00pm; Confessions 8:30am-8:55am, 10:30am-10:55am & 5:30pm-5:55pm
Weekdays: 9:00am-6:20pm (Confessions 11:40am-12:05pm; Holy Mass 12:10pm)
Saturdays: 9:00am-6:20pm (Eucharistic Adoration 10:00am-12noon, with Confessions 10:05am-11:45am; Holy Mass 12:10pm); Sung Vespers 6:00pm
Confessions 30mins before every Mass every day
Holy Rosary Mon-Fri 11:30am; Sat 11am; Sun 4:30pm
Stations of the Cross Mon & Fri, 1:00pm
Mothers' Prayer Group: Wed 1:00pm
Holy Souls Prayer Group: every Tuesday 1:00pm
Church & Priory Court car parks for Shrine visitors
Bookshop Unit 3 Open Sun 12:25pm-1:00pm.
Daily Holy Mass online with homily: on LiveMass.net > Warrington: Sun 11:00am; Mon-Sat 12:10pm, and the same on demand 24hrs after 3pm upload for weekday Masses, and over 7 days for latest Sunday Mass.
Eucharistic Adoration: Sun 5:30pm; Sat 10:00am-12noon; 1st Fri 7:40pm-8:40pm; most Wed. afternoon after classes
---
All must dress modestly in church out of reverence for God and of respect for fellow-worshippers. Kindly switch OFF your mobile phone before you enter the church. Thank you in advance.
---
Safeguarding: If you have concerns about children or vulnerable adults, please contact the Archdiocesan Safeguarding Department: m.robson@rcaol.org.uk or 0151 522 1013, or speak with Kelly Williams, St Mary's Safeguarding Officer. Thank you for your awareness.
---
Playgroup for 0-4 years olds, every Wednesday at 9:30am till 11:30am – please contact Carla Cilia for details carlagcilia@gmail.com.
---
THANK YOU to all who helped make last weekend a huge SUCCESS with 24 candidates confirmed and Priory Hall blessed by Archbishop McMahon,

See great pictures here: https://www.flickr.com/photos/josephshaw/albums/72177720309349119.
plus Pro-life & Academy Open Day.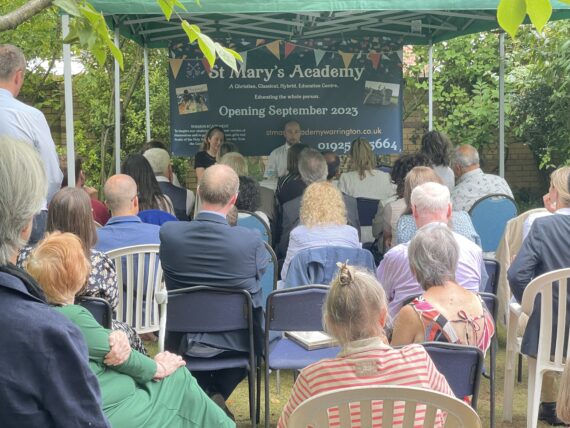 Visit https://www.stmarysacademywarrington.co.uk/
Rain at the end prevented the draw of the Pro-life basket raffle last Sunday: it will take place after the 11am Mass on Sunday 2 July. Please bring your ticket to claim your prize.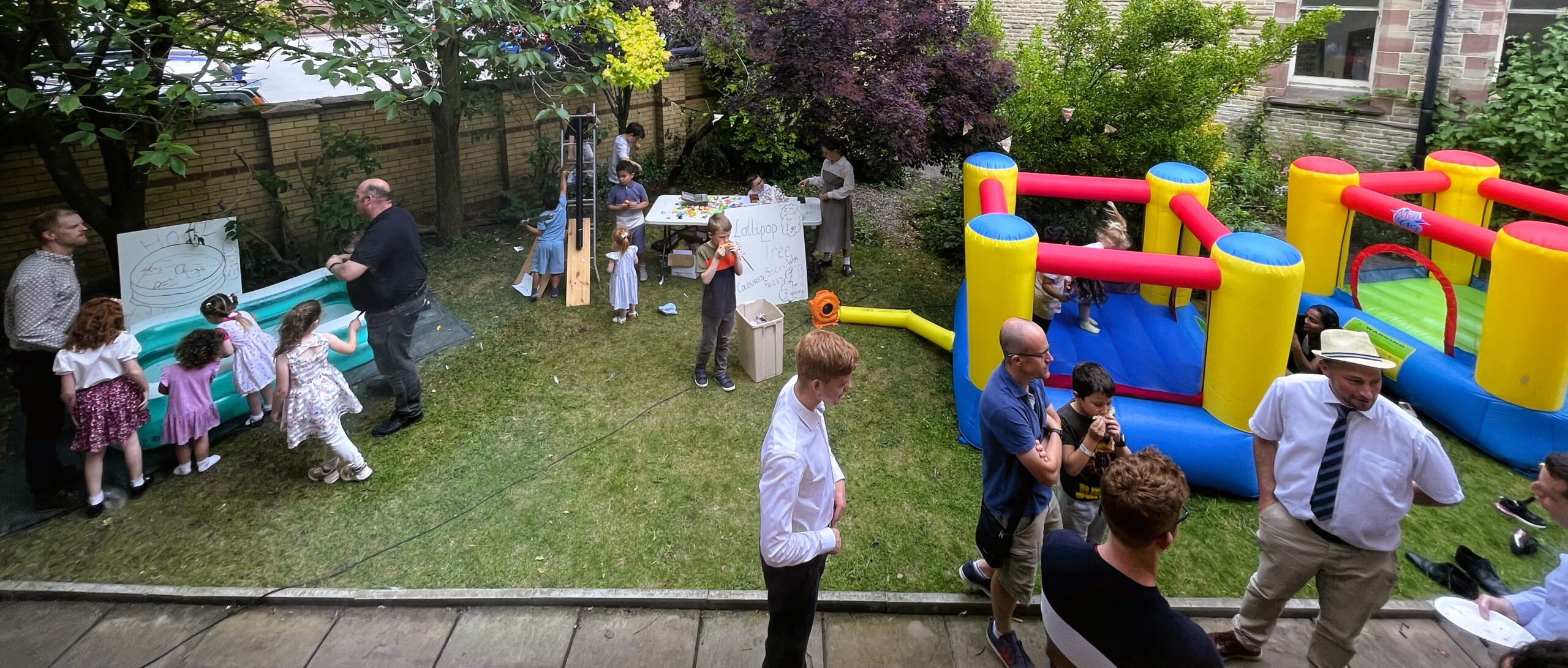 ---
URGENTLY BOOK your SEAT on the BUS
for our Shrine Pilgrimage to Holywell on Sat 8th July. Cost of travel: £15 per person return.
Contact us if you need sponsoring. Book with stmaryssecretary@fssp.org or drop envelope through Presbytery letter box with payment in cash marked with your name, contact details, and stating "Holywell Bus" . We have now paid in full, so that money will be wasted if empty seats remain.
SCHEDULE: arrive by 9:45am at St Mary's
10am Bus departs from St Mary's Warrington
11am Holy Mass of St Winifred, Virgin and Martyr, in Holywell Parish Church, 15 Well St, Holywell CH8 7PL;
12:30pm: Veneration of Relic of St Winifred
1pm: To Basingwerk Abbey ruins for picnic lunch
3:30pm: At Pantasaph Friary, Stations of the Cross on open-air Calvary Hill and Wood (good walking shoes required for uneven grounds)
4:30pm: visit of Pugin Parish Church/refreshments
5pm: Back on bus and return by 6pm at St Mary's
6pm: Stay on for Sung First Vespers of Ss Thomas More & John Fisher, Martyrs
Meet us directly in Holywell without booking if you don't travel on our bus.
---
Thank you for helping us through the Offertory collection and standing orders. Should any parishioner be in serious financial difficulty, let them contact the Shrine clergy confidentially.
Support St Mary's Shrine: send your donation via our Donate page: https://fssp.co.uk/donate/. Ask us
for a Gift Aid form to increase your donation by 25% at no extra cost to you. Gift Aid envelopes can be obtained from our Secretariat. Standing orders are easier and quicker for us to process than cash: Lloyds
Bank; Sort Code: 30-80-27; Account number: 30993368. Account name: FSSP Warrington
---
Dowry Magazine, Summer issue now online. Read about Humility Month, Seminary Chapel, Coronation of King, Pugin in Tasmania, Catholic novel, and more.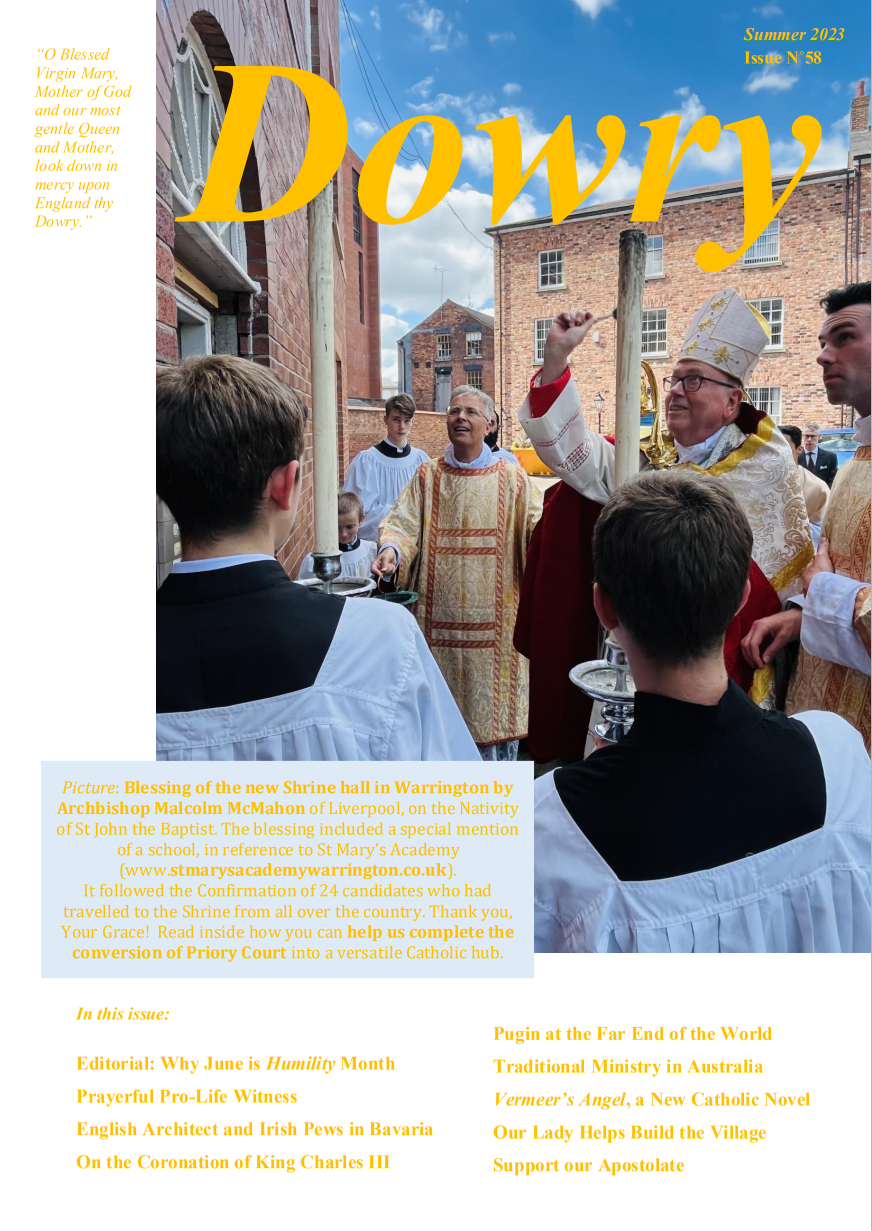 In this issue:
Editorial: Why June is Humility Month
Fr de Malleray considers that the month of the Sacred Heart is also that of the Holy Eucharist with Corpus Christi. The example of St Francis of Assisi whose humility is universally acknowledged shows a little spoken-off connection between the saint and the Holy Eucharist.
Prayerful Pro-Life Witness
Isabel Vaughan-Spruce, the courageous young woman who was arrested for praying silently outside an abortuary, explains why bearing witness to life is part of the Gospel. She invites all to the March for Life in London on 2 September.
English Architect and Irish Pews in Bavaria
English seminarian David rejoices at the beautiful improvements to the community chapel at the International Seminary of St Peter in Bavaria, enhanced by unexpected contributions from the British Isles.
On the Coronation of King Charles III
Homily from Warrington on the day of Coronation, giving thanks for the Christian rite of coronation, a powerful reminder of the Christian identity of the the United Kingdom. The ritual calls for conforming the life of sovereign and people to the sweet law of Christ, King of kings.
Pugin at the Far End of the World
Brian Andrews, Heritage Officer for the Diocese of Hobart, explains A.W.N. Pugin's influence as far as Tasmania, illustrated by stunning pictures that bear witness to the global influence of the great Catholic convert architect.
Traditional Ministry in Australia
Fr Roger Gilbride, FSSP, formerly in England, recalls the humble beginning of the FSSP in Australia until its upgrade to a fully-fledged district.
Vermeer's Angel, a New Catholic Novel
Four representatives of the world of letters comment on a Catholic novel just released: a Catholic publisher, a literary review editor, a novelist and a university lecturer took pleasure in reading a story where friendship, religion, the fine arts, and ideology intertwine against a Cold War backdrop. In the Church under attack, the worst infiltration is sin. Safety then will start with repentance.
Our Lady Helps Build the Village
Building up a vibrant Catholic sanctuary is more needed than ever in our uncertain times. Not for the first time over the past 5 years, divine Providence has helped the Priory Campaign in Warrington. The versatile Shrine hall was recently blessed by the Archbishop of Liverpool, but help is still needed for completion of work. Visit our new fundraising webpage: https://www.lifefunder.com/fsspwarrington.
Support our Apostolate
As the FSSP expands across the British Isles, assistance in many ways is requested, while a broad range of media is offered to all to strengthen their faith and evangelise.
---
COMING VERY SOON: please tell young ladies now about this unique opportunity. Surely not only young men wish to hear how to discern God's calling.
Young ladies from anywhere in the UK, come forward! This is no sign-up for convent, but a presentation of what religious life entails and why it is worth looking into.
Vocation Discernment Day for LADIES
(Catholic & single): Sat 29 July
with Sr Mari Caritas (then visiting from Minneapolis, erstwhile from St Mary's Shrine) and Fr de Malleray, FSSP: 10:00am-5:00pm.
Watch conference by Fr de Malleray on religious life in general https://www.facebook.com/londonjuventutem/videos/449301119087599
on Poverty, Chastity, Obedience: https://www.facebook.com/londonjuventutem/videos/569868520474876/
Free. Bring your picnic. Enquire now: stmaryssecretary@fssp.org.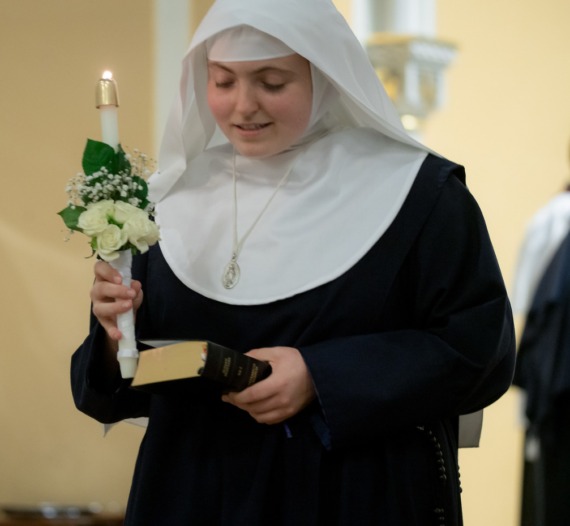 ---
Now 901 subscribers to St Mary's YouTube channel: Main homilies are uploaded regularly: youtube.com/@stmaryswarringtonyoutubech6943.
---
Share this with friends and acquaintances
Help us complete the conversion work for
1) a versatile Shrine hall sitting 218 guests and pilgrims (Middle Floor);
2) classrooms, repository and admin space (Ground Floor);
3) twelve bedrooms for pilgrims, visiting seminarians and priests (Top Floor).
Before lockdown we did raise £1M to buy and convert this property, next door to our beautiful church. But costs have soared since Covid. With us, invest in re-evangelising England.
This is how: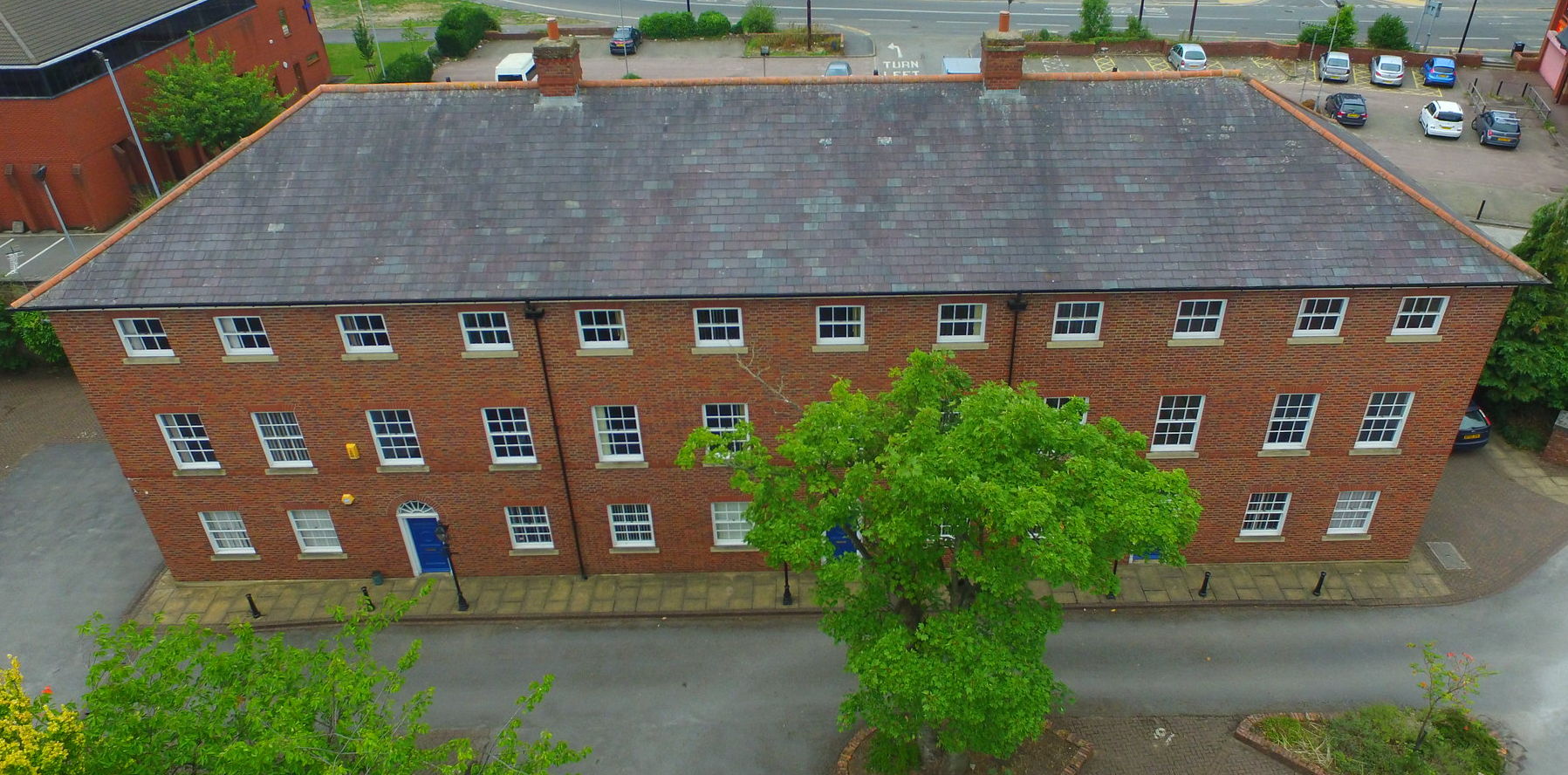 → We are a traditional Catholic hub in Great-Britain with 500 visits per week;
→ In full communion with the Church;
→ Described in the national press as a "Nazareth in Lancashire";
→ With several FSSP priests serving God and souls full time;
→ Daily traditional Mass and confessions;
→ Teaching the faith to children (home-schooling group, St Mary's Academy) and adults (Men and Ladies' groups, Juventutem youth group, converts classes);
→ Daily homilies livestreamed;
→ Sustained pro-life involvement (LifeSiteNews; SPUC, Good Counsel Network, March for Life UK);
[Please note, the video above was recorded before the Covid crisis but the pastoral aim of the Priory Campaign remains.]
God bless you.
---
Pray for: Michael Ibbotson, Catherine Sibert; Terry Drury, Michelle Brazier-Huelsman, James H., Bill Conder, Greta Doyle, Dorothea Wallace, M. Hawley; Theresa Reynard. RIP: Francis Billington; Rita Hall; Hilda Creagan, Ana Mary Rozo, Ann Evans, Michael Whelan; John Marechal. Masses were offered privately for: Josie Taylor, Teresa Wakefield, Michael Ibbotson, Sarah Kreenan, Joseph Murphy, James B. Megarry RIP, Valentine M. Connell, Pat Kavanaugh, Arthur Byrne RIP, Crookall Family, M. & R. Kilgalen & Family
| | | | | | |
| --- | --- | --- | --- | --- | --- |
| Sun | 2 | 5th Sunday after Pentecost | II | 9:00am | Francis Crookhall RIP |
| | | 5pm Vespers and Benediction of the | | 11:00am | All St. Mary's Faithful |
| | | Blessed Sacrament | | 6:00pm | Michael Kilsby |
| Mon | 3 | St. Irenaeus, Bishop Martyr | III | 12:10pm | Donor's intention |
| Tue | 4 | Feria, Votive Mass of the Holy Angels | IV | 12:10pm | Joanne & Kevin Anniversary |
| Wed | 5 | St. Anthony Zaccaria, Confessor | III | 12:10pm | Unity in family |
| Thur | 6 | Feria, Votive Mass of the Holy Ghost | IV | 12:10pm | Mary Birkett |
| Fri | 7 | Sts. Cyril and Methodius, Bishops Confessors | III | 12:10pm | Maria Owen RIP |
| | | First Friday Devotions | | 7:00pm | Celebrant's intention |
| Sat | 8 | St. Elizabeth, Widow | III | 12:10pm | Repar. Our Lady Walsingham |
| | | Adoration & Confessions 10am-12noon | | | |
| Sun | 9 | Sts. John Fisher & Thomas More, Martyrs | I | 9:00am | Dr Gordon Bryden RIP |
| | | 5pm Vespers and Benediction of the | | 11:00am | Preservation Latin Mass,FSSP |
| | | Blessed Sacrament | | 6:00pm | Thomas Higgins RIP |
| Mon | 10 | Seven Holy Brothers,Rufina, Secunda, Mart. | III | 12:10pm | Wendy Moss family intentions |
| Tue | 11 | Feria, Mass of 6th Sunday after Pentecost | IV | 12:10pm | J. Quinn & Higgins families |
| Wed | 12 | St. John Gualberti, Abbott | III | 12:10pm | Newton Family |
| Thur | 13 | Feria, Votive Mass for Forgiveness of Sins | IV | 12:10pm | E.E. Robinson RIP |
| Fri | 14 | St. Bonaventure, Bishop Confessor Doctor | III | 12:10pm | Dominic Bradbury |
| Sat | 15 | St. Henry, Confessor | III | 12:10pm | Isabella Robinson |
| | | Adoration & Confessions 10am-12noon | | | |
| Sun | 16 | 7th Sunday after Pentecost | II | 9:00am | Peace in family |
| | | 5pm Vespers and Benediction of the | | 11:00am | All St. Mary's Faithful |
| | | Blessed Sacrament | | 6:00pm | Christine Laheen |