February 9, 2023
SPUC Youth Weekend near Stone 24-26 Feb: If you love life, meet us there! (Yarnfield Park Centre ST15 0NL) Holy Mass & confessions both mornings by FSSP clergy. Register now on www.spuc.org.uk/2023youthconference. Looking forward to seeing you again, or meeting you. Bring your friends along! If you love life: book now!

Pre-Lent all-night vigil of Eucharistic adoration for unborn children at St Mary's: Sun 19 Feb (After usual 5pm Vespers, Benediction, Confessions & 6pm Mass)
7:00pm-8:00pm Pro-life talk & Coffee in hall
8:00pm-7:00am Exposition and adoration in church: sign up for 1hr or more on rota
7:00am: Benediction and Low Mass
8:00am: Lauds

Our Lady of Guadalupe Image now displayed against wall with kneeler and lights. Thank you to those who facilitated devotion to the Protectress of the Unborn.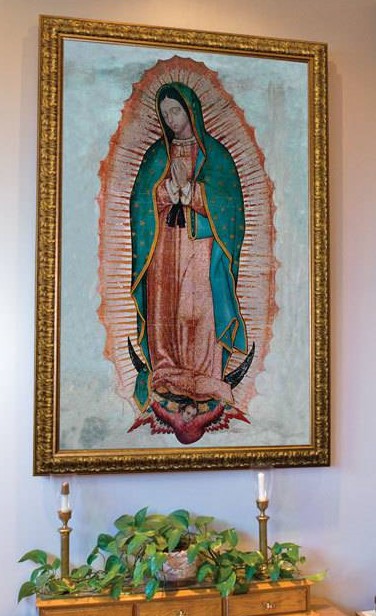 St Mary's Shrine Church Bulletin 12-26 Feb 2023 (fortnightly)
Smith Street, Warrington, Cheshire, WA1 2NS, England
Served by the Priestly Fraternity of St Peter by appointment from the RC Archdiocese of Liverpool
01925 635664 fssp.org.uk/warrington facebook.com/fssp.england
Rector: Fr Armand de Malleray, FSSP malleray@fssp.org; Assistants: Fr Ian Verrier, FSSP (also Choir & Organ) iverrier@fssp.org; Fr Alex Stewart, FSSP (any Mass bookings) astewart@olgseminary.org; Fr Gerard Quirke: frquirke@outlook.com; Visiting Priest: Fr Andrew Jolly; Shrine Administrator: Mrs Jane Wright: warrington@fssp.org; Secretarial Assistant: Mrs Kelly Williams:stmaryssecretary@fssp.org.
---
Receive this newsletter by email https://fssp.org.uk/manageprofile/index.php
---
Daily Holy Mass readings: www.divinumofficium.com/cgi-bin/missa/missa.pl
Vespers: https://www.divinumofficium.com/cgi-bin/horas/officium.pl
---
OPENING TIMES
Sundays: 8:30am to 7:00pm
3 Sunday Holy Masses 9:00am, 11:00am & 6:00pm.
Sung Vespers & Benediction 5:00pm; Confessions 8:30am-8:55am, 10:30am-10:55am & 5:30pm-5:55pm
Weekdays: 9:00am-6:20pm (Confessions 11:40am-12:05pm; Holy Mass 12:10pm)
Saturdays: 9:00am-6:20pm (Eucharistic Adoration 10:00am-12noon, with Confessions 10:05am-11:45am; Holy Mass 12:10pm); Sung Vespers 6:00pm
Confessions 30mins before every Mass every day
Holy Rosary Mon-Fri 11:30am; Sat 11am; Sun 4:30pm
Stations of the Cross Mon & Fri, 1:00pm
Mothers' Prayer Group: Wed 1:00pm
Holy Souls Prayer Group: every Tuesday 1:00pm
Church & Priory Court car parks for Shrine visitors
Bookshop Unit 3 Open Sun 12:25pm-1:00pm.
Daily Holy Mass online with homily: on LiveMass.net > Warrington: Sun 11:00am; Mon-Sat 12:10pm, and the same on demand 24hrs after 3pm upload for weekday Masses, and over 7 days for latest Sunday Mass.
Eucharistic Adoration: Sun 5:30pm; Sat 10:00am-12noon; 1st Fri 7:40pm-8:40pm; most Wed. afternoon after classes
Men's group: Monthly 7:00pm Mass + Talk
St Mary's Academy: Mon and Thu 8:30am-3:30pm
---
All must dress modestly in church out of reverence for God and of respect for fellow-worshippers. Kindly switch OFF your mobile phone before you enter the church. Thank you in advance.
---
Safeguarding: If you have concerns about children or vulnerable adults, please contact the Archdiocesan Safeguarding Department: m.robson@rcaol.org.uk or 0151 522 1013, or speak with Clare Fraser, St Mary's Safeguarding Officer. Thank you for your awareness.
---
Please keep lights ON all day in Narthex and Porch,
but doors SHUT from Nave into any other part of the church including WCs. Thank you.
---
A big thank you to the volunteers who generously gave their time to dismantle the crib and take down the several Christmas trees from crib and altar. Thank you as well to our dedicated church cleaners. Have an hour to give to keep the House of God tidy? Contact us.
---
PRIORY COURT HALL CONVERSION:
OPEN SESSION Sun 12th Feb 12.30 – 1.30pm
with plans and drawings available for your perusal plus the project team on hand to answer any questions, downstairs in Unit 1.
The plans will also be on display in the narthex at other times so please come and see what the new hall will look like. Further updates will be announced and published on the website so do keep a check for any changes. Thank you for your cooperation. There remains a deficit to bridge and further donations are very welcome.
Parking has been significantly reduced so please consider alternatives such as the church carpark or the Cockhedge Centre (2 hours free) especially on weekdays.
Please ensure children are supervised and escorted at all times when crossing the car park from Priory Court to the church. Whilst deliveries will be kept outside busy periods, vans manoeuvring do not have the same visibility making pedestrian conflict more of a risk. Adults too should be vigilant of course.
All activities are now restricted to using Unit 1 with most having to re-locate to the top floor for the duration of the build. A smaller area will be kept operational on the ground floor for those unable to access the upper floor.
The BOOKSHOP remains open after 11am Sun Mass.
Lent reading: Stabat Mater booklets. Bring £3.50 in cash to bookshop in Unit 3 and receive your copy after 11am Sunday Mass. Also: Baronius hand missals and Holy Bibles.
---
The Sacrament of CONFIRMATION will be administered by His Grace Archbishop McMahon OP of Liverpool on Saturday 24th June 2023 at 3:00pm. Candidates must register by 15th February with stmaryssecretary@fssp.org for preparation. Also for First Communion.
Link to Facebook page for this event here: https://www.facebook.com/events/945717113469892.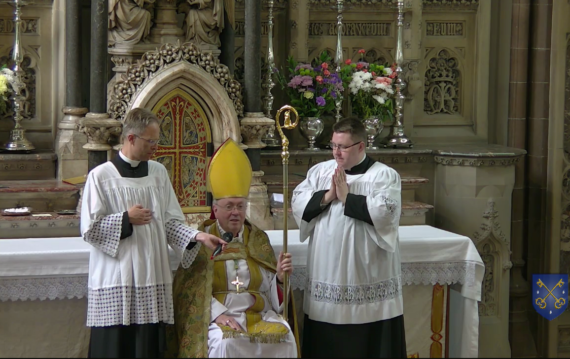 St Mary's clergy were honoured and glad to have Archbishop McMahon visit them for an informal supper last week. It was a good occasion to catch up and to introduce Fr Quirke to him face to face.
If the conversion work at Priory Court is completed according to plan, His Grace may even be able to bless the new building on his visit here on 24th June. Let us pray!
---
BRING last Palm Sunday's PALMS by Tuesday 21st February to be burnt for ashes for Ash Wednesday.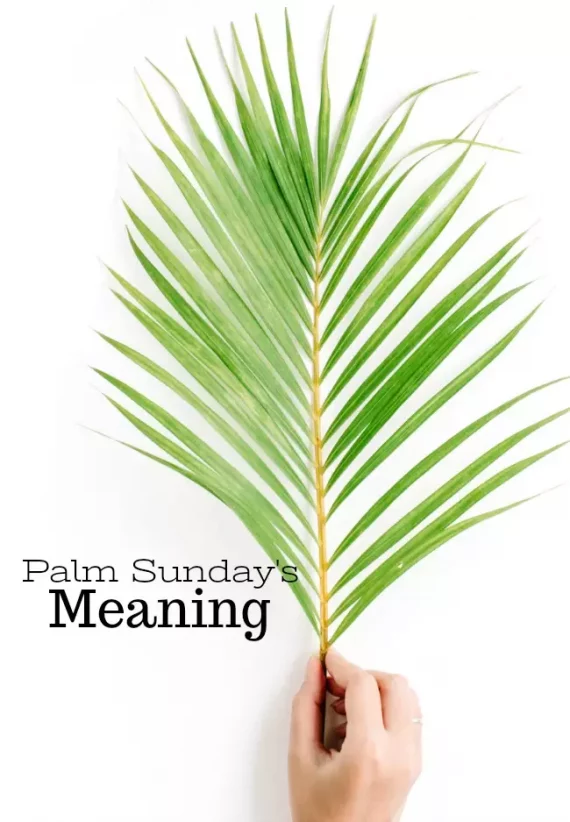 Penance Reminder:
Catholics 14+ must abstain from meat every Friday;
Catholics 18-59 must fast (and abstain from meat) on Ash Wednesday and Good Friday.
Fast currently means: one full meal a day plus up to two snacks which altogether do not amount to another full meal.
Every Catholic must receive Holy Communion at least once a year, preferably at Easter; following Sacramental absolution.
---
St Mary's playgroup – toys, crafts, games, singing and prayers – for 0-4 year olds. Every Monday and Wednesday 9:30 till 11:30 during term time.
Please contact for details Rebecca Bowen – rebeccamarybowen@outlook.com or Carla Cilia – carlagcilia@gmail.com.
---
Congratulations to Jack and Chelsey Rigby on the Baptism of their first child Evie planned on Sunday 19th February after the 11am Mass (circa 12:30pm). The young parents became Catholic on 22 Dec last at St Mary's. We assure them of our prayer for them and their baby girl.
---
Pray for 19 FSSP seminarians who will be ordained Subdeacons on Sat 11 Feb, feast of Our Lady of Lourdes, including our seminarian from the UK Miklos. Fr de Malleray will represent St Mary's Shrine.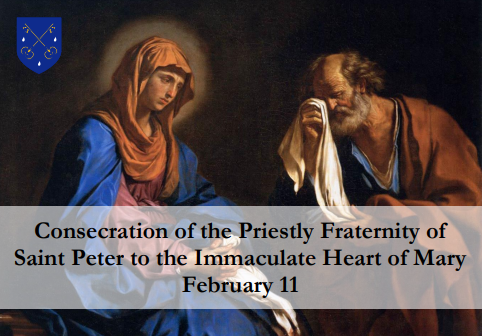 The same day, all FSSP members worldwide will renew their consecration to the Immaculate Heart of Mary. You are heartily invited to do this with us after the 1pm Mass that day. More than ever, we need Our Lady's protection. Click here to open the text of the Consecration.
---
Converts' class Saturdays 5pm. Catholics willing to improve their faith are welcome as well. Contact Fr Quirke: frquirke@outlook.com.
---
SHRINE PILGRIMAGE TO WALSINGHAM: Sun 7th-Mon 8th May 2023. Already 30 have booked out of 50 spaces. Minimum cost per person: £83 (includes return bus trip + shared room + breakfast). Final cost will depend on number of pilgrims. Please book now with Kelly Williams stmaryssecretary@fssp.org.
---
Men's Group: 15 Feb, 22 Mar, 19 Apr, 17 May, 21 Jun, 12 July. Ladies' Group: 18 Feb, 25 Mar, 22 Apr, 13 May, 17 Jun
---
Shrine expenses grow quicker than income. This is not surprising since our parishioners are affected by the economic difficulties. However, if you are in a position to contribute personally or to alert benefactors on our needs, even though they don't live in Warrington, please share our bank account details below with them.
Thank you for helping us through the Offertory collection and standing orders. Should any parishioner be in serious financial difficulty, let them contact the Shrine clergy confidentially.
Support St Mary's Shrine: send your donation via our Donate page: https://fssp.co.uk/donate/. Ask us for a Gift Aid form to increase your donation by 25% at no extra cost to you. Gift Aid envelopes can be obtained from our Secretariat. Standing orders are easier and quicker for us to process than cash: Lloyds
Bank; Sort Code: 30-80-27; Account number: 30993368. Account name: FSSP Warrington
---
New interview: Fr de Malleray discusses liturgy, faith and Catholic fiction with the good publisher Arouca Press: https://youtu.be/ooqUFRS7vmU.
---
"Old Warringtonian": We welcome Fr Roger Gilbride, FSSP, ordained in 2020 after spending his diaconal stage with us at St Mary's. Based in Sydney, Australia, Father will be the celebrant at the 11am Sunday Mass on 26th Feb.
---
Now 794 subscribers to St Mary's YouTube channel: Homilies for Sundays and major feasts are uploaded regularly. Septuagesima homily by Fr Quirke: www.youtube.com/watch?v=9pn8C63WL3M
---
Chartres Pilgrimage 2023 Pentecost Weekend 26-30 May 2023
Now in its 41st year, the 2023 pilgrimage of Tradition from Paris to Chartres will take place over Pentecost Weekend, coinciding this year with the Spring Bank Holiday weekend in the UK.
Pilgrims from across the globe trek the 60 miles from Paris to Chartres through the French countryside, over a joyous 3 days of penance, prayer and song. It is truly an uplifting and moving experience to see many thousands of young (and some not so young ) Catholics publicly witness the Faith. But more importantly, it is invigorating source of renewal for one's personal spiritual life. Chaplains from the UK will be on hand to offer confession and spiritual direction. Families can join a special chapter with additional transport provided along the route for those with children.
Also note the pilgrimage is not just for Traditionalists. Please consider invite Catholic and non-Catholic friends for an enjoyable and uplifting weekend. More info and pictures can be seen here https://www.nd-chretiente.com/index-eng.php
COST The cost of the pilgrimage is £310, including transport by coach from London to Paris and back from Chartres, plus overnight hotel accommodation on Friday 26th and Monday 29th May (including dinner).
The UK chapter is ready to accept applications registrations via completion of an online form at: https://forms.gle/virwWG1u72uLEZxy6
For additional information about the UK chapter and travel arrangements please email Chartres@duc-in-altum.co.uk or visit http://chartresuk.blogspot.com/
Northern pilgrims: Depending on interest, additional arrangements can also be made for transport from the North departing from Warrington and Preston. (approx. additional cost £50). Please contact the Michael Hall: m.hall@talk21.com as soon as possible to register your interest.
---
Pray for: Michelle Brazier-Huelsman, Anne Drury, Deryck Sankey, Ray Cilia, James H., Tim Wright, Michael Leacy, Wendy Moss, Bill Conder, Greta Doyle, Dorothea Wallace, M. Hawley; Theresa Reynard, Hilda Creagan. RIP: Ana Mary Rozo, Peter Wright, Fr John Gildea; Ann Evans; Michael Whelan; John Marechal.
More intentions are used at private Masses. Kindly ask Fr Stewart for details.
Sun
12
Sexagesima Sunday 5pm Vespers and Benediction of the Blessed Sacrament
II
9:00am
Frank Blundell
11:00am
Preservation Latin Mass,FSSP
6:00pm
Thanksgiving for Louise
Mon
13
Feria, Votive Mass of the Holy Trinity
IV
12:10pm
Sarah Staton
Tue
14
St Valentine, Confessor & Martyr (Comm)
IV
12:10pm
Victoria Rodrigues
Wed
15
Feria, Votive Mass of Sts Peter and Paul
IV
12:10pm
Anne Evans RIP
Men's Group 7:45pm-9:15pm
7:00pm
Men of St Mary's
Thu
16
Feria, Votive Mass for Vocations
IV
12:10pm
Private Intention
Fri
17
Feria, Votive Mass of the Passion of Our Lord
IV
12:10pm
Kevin King
Sat
18
Saturday of the BVM Ladies Group 1pm; Adoration & Conf. 10am-12noon Vespers 6pm
IV
12:10pm
Albert Joseph
Sun
19
Quinquagesima Sunday
II
9:00am
Erzsevert Dobcsanti RIP
5pm Vespers and Benediction of the
11:00am
All St. Mary's Faithful
Blessed Sacrament
6:00pm
R Carus
Mon
20
Feria, Votive Mass of the Holy Trinity
IV
7:00am
12:10pm
Pro-life in the UK
Matt Lukacs
Tue
21
Feria, Daily Mass of the Dead
IV
12:10pm
Higgins/Kenny families RIP
Wed
22
Ash Wednesday FAST & ABSTINENCE Distribution of Ashes at both Masses
I
12:10pm 6:00pm
March for Life UK Celebrant's intention
Thu
23
Chair of St Peter – 1st Class FSSP (transferred)
I
12:10pm
John Baptist Rodrigues
Fri
24
St. Matthias, Apostle
II
12:10pm
Fitzpatrick/Daly families RIP
Sat
25
Feria Adoration & Conf. 10am-12noon Vespers 6pm
III
12:10pm
Livia Lukacs
Sun
26
1st Sunday in Lent 5pm Vespers and Benediction of the Blessed Sacrament
I
9:00am
Crookhall/Walsh families RIP
11:00am Celebrant, Fr Roger Gilbride FSSP
All St. Mary's Faithful
6:00pm
Donor's Holy Souls