April 22, 2022
St Mary's Shrine Church Bulletin
24 April-7 May 2022 (fortnightly)
Smith Street, Warrington, Cheshire, WA1 2NS, England
Served by the Priestly Fraternity of St Peter by appointment from the RC Archdiocese of Liverpool.
01925 635664 fssp.org.uk/warrington facebook.com/fssp.england
Rector: Fr Armand de Malleray, FSSP malleray@fssp.org; Assistant: Fr Ian Verrier, FSSP (also Choir & Organ) iverrier@fssp.org; Assistant: Fr Alex Stewart, FSSP (any Mass bookings) astewart@olgseminary.org; Assistant: Fr Gerard Quirke: frquirke@outlook.com; Visiting Priest: Fr Andrew Jolly; Shrine Secretary: Mrs Jane Wright: warrington@fssp.org
---
Receive this newsletter by email https://fssp.org.uk/manageprofile/index.php
---
Daily Holy Mass readings: www.divinumofficium.com/cgi-bin/missa/missa.pl
Vespers: https://www.divinumofficium.com/cgi-bin/horas/officium.pl
---
Opening Times:
Sundays: 8:30am to 7:00pm
3 Sunday Holy Masses 9:00am, 11:00am & 6:00pm;
Sung Vespers & Benediction 5:00pm; Confessions 8:30am-8:55am, 10:30am-10:55am & 5:30pm-5:55pm
Weekdays: 9:00am-7:00pm (Confessions 11:40am-12:05pm; Holy Mass 12:10pm)
Saturdays: 9:00am-7pm (Eucharistic Adoration 10:00am-12noon, with Confessions 10:05am-11:45am; Holy Mass 12:10pm); Sung Vespers 6:00pm
Confessions 30mins before every Mass every day
Holy Rosary Mon-Fri 11:30am; Sat 11am; Sun 4:30pm
Stations of the Cross Mon & Fri, 1:00pm
Mothers' Prayer Group: Wed 1:00pm
Church & Priory Court car parks for Shrine visitors
Also, free 2hrs parking at ASDA across the street.
Organ practice Thu, Fri 2pm-4pm
Bookshop Unit 3 Open Sun 12:25pm-1:00pm.
---
Daily Holy Mass online with homily: on LiveMass.net > Warrington: Sun 11:00am; Mon-Sat 12:10pm, and the same on demand 24hrs after 3pm upload for weekday Masses, and over 7days for latest Sunday Mass.
Holy Masses: Sunday 11am & 6pm; Mon-Sat 12:10pm daily.
Eucharistic Adoration: Sun 5:30pm; Sat 10:00am-12noon; 1st Fri 7:40pm-8:40pm; most Wed. afternoon after school
Men's group: Every Wed 7:00pm Mass + Compline & Talk Converts & Adults Catechesis: MostSat 5pm
Home Education Group: MostWednesdays 1pm-3:30pm. Contact Alison Kahn 01925 727759.
Choir: Every Thu & Sun.Contact Fr Verrier for an audition if you would like to join our choir – including Junior Choir.
Young Adults & Professionals 18-35: Monthly Sat walk and/or talk: www.facebook.com/juventutem.warrington/
Happy Eastertide! Thank you to all of you who contributed to the spiritual and logistical success of the past Easter Triduum: liturgy and music; flowers and church cleaning; LiveMass and brass polishing; Clergy meals; Vigil Fire, collections etc.
---
All must dress modestly in church out of reverence for God and of respect for fellow-worshippers. Women are encouraged to wear a veil or mantilla. Tops must cover bodies down to elbows and skirts at least below knees. No shorts, no t-shirts, no tights. In addition, on Sundays and feasts Sunday best should be worn by all: i.e. suits or jackets and ties for gentlemen, dresses for ladies. Thank you.
We love having young children around in church and we thank parents for inculcating their little ones the respect owed to the House of God, and to secure recollection for fellow-worshippers. Parents are welcome to give exuberant children a break in the Narthex or outdoors if needed, especially during the Canon of the Mass and homily.
To receive Holy Communion: one must be a Catholic, in the state of grace, one-hour fasting at least. In the traditional liturgy, Holy Communion is received kneeling (unless unable to) and always on the tongue. Thank you in advance.
Kindly switch OFF your mobile phone before you enter the church.
---
Safeguarding: If you have concerns about children or vulnerable adults, please contact the Archdiocesan Safeguarding Department: m.robson@rcaol.org.uk or 0151 522 1013, or speak with Clare Fraser, St Mary's Safeguarding Officer. Thank you for your awareness.
---
LAST WEEK for RC Academy registration: deadline for registering children for September is 1st May 2022: www.rcahybrid.org.uk. Thank you for your continued support through 1) sharing the information by email and word of mouth; 2) praying for growth; 3) directing sponsors to St Mary's Educational Trust: st.m.ed.trust@gmail.com. See Academy pictures here: https://www.flickr.com/photos/138056205@N08/albums/72177720296777953.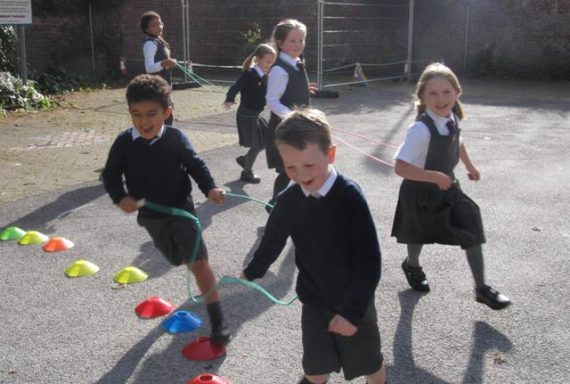 Solution for Catholic Education video, watch it here: https://www.youtube.com/watch?v=EGepkkYB7KI
---
Have you been CONFIRMED, or your teenage children? If not, contact Fr Quirke by 30th April to be included in our preparation class, starting after Easter: frquirke@outlook.com. Archbishop Malcolm McMahon OP of Liverpool will confer the Sacrament at St Mary's on Sat 2nd July 2022, 3:00pm.
---
500 weekly visits to St Mary's Shrine Church.
---
Roof leaking: The scaffolding is now in place for survey and repair to take place. Thank you for the money raised and donated.
---
Thank you for helping us through the Offertory collection and standing orders.
Support St Mary's Shrine: send your donation via our Donate page: https://fssp.co.uk/donate/. Ask us for a Gift Aid form to increase your donation by 25% at no extra cost to you. Gift Aid envelopes can be obtained from our Secretariat. Standing orders are easier and quicker for us to process than cash: Lloyds Bank ;
Sort Code: 30-80-27 ; Account number: 30993368 ;
Account name: FSSP Warrington
---
English Conversation Classes for anyone, especially our new parishioners from Hong Kong, Poland or elsewhere. Individuals, couples and families, all welcome. Most Tuesdays after the 12:10pm Mass in Priory Court Unit 1. Contact Alison a.f.kudlowski@btinternet.com.
---
Latin Classes for beginners: Contact Samuel: s.a.e.barry@hotmail.com.
---
Pro-Life Chain SPUC on Sat 23 April 11:00am-1:00pm, along Mersey Street. Stand up for life holding signs to raise awareness about the fate of unborn children.
Now 590 subscribers to St Mary's YouTube channel: Homilies for Sundays and major feasts are uploaded regularly. Visit youtube.com/channel/UC_NVY7jpDIhANiwjng1gN0w. Thank you to our LiveMass/YouTube operators.
---
Congratulations to Miss Sophie Wright who will be baptised on Sunday 8th May after nearly a year of doctrinal preparation at St Mary's. We assure her of our prayer and we look forward to welcoming her as our new fellow-member in the Catholic Church.
---
2 new books arrived at bookshop (open Sun 12:30pm-1pm): Ego Eimi-It is I, Falling in Eucharistic Love, new edition of Fr de Malleray's book, by Sophia Institute Press, discounted at £10.
Ego Eimi – It Is I
Falling in Eucharistic Love
We are delighted to announce that this book is now available again in a brand new edition by Sophia Institute Press.
Tip: Safe and easy purchase from the publisher's website is much more advantageous to the Catholic publisher and author (than on Amazon who retains nearly every profit and pays publisher and author a tiny fraction).
Or see discounts below.
Listen to or watch interview of author here.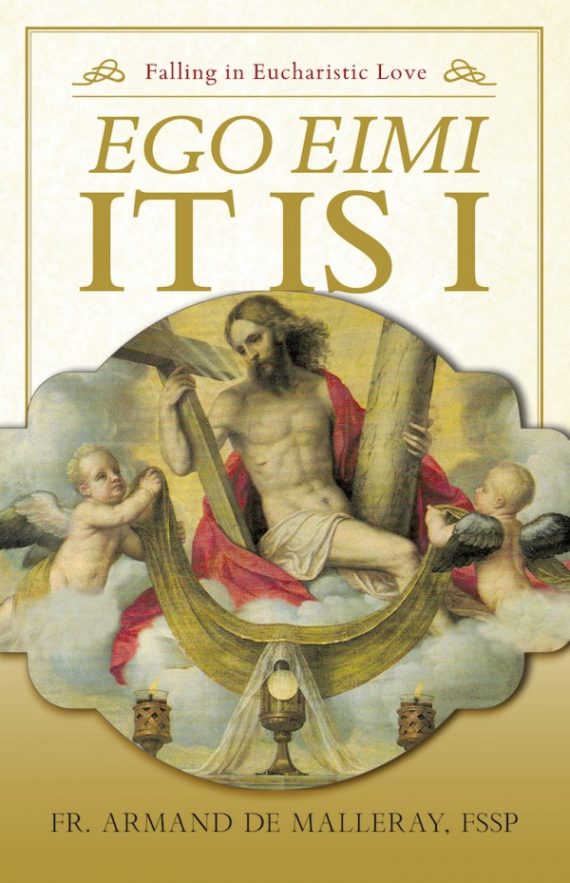 ---
Belief in the Real Presence of Christ in the Holy Eucharist has declined drastically over the past fifty years. For the love of the Lord and the good of souls, how can we help reverse this trend?
Whether you are a believer or struggling, this book will help you develop a personal relationship with Jesus in the Most Blessed Sacrament. In these pages, Fr. Armand de Malleray looks afresh at traditional Church teaching on the Holy Eucharist. He demonstrates that it is implemented with precision, strength, and beauty in the time-tested Traditional Latin Mass missal.
In his engaging and accessible style, Fr. de Malleray explains the significance of each precious detail of the traditional Eucharistic liturgy, from the opening words of the Preparatory Prayers, "Judge me, O God," to the importance of punctuating the words of Consecration, to the meaning of the celebrant's genuflections before and after the elevation.
Fr. de Malleray explains essential doctrines such as transubstantiation, the concomitant presence of Christ's Body, Blood, Soul and Divinity, and the nature of the Eucharistic fragments. He also describes in moving detail Our Lady's role in drawing us closer to her Eucharistic Son.
Replete with real-life stories, modern-day references, and cultural and historical reflections, Ego Eimi will inspire you to worship the Real Presence as an ardent believer, orient you to the invisible realities occurring, and foster a greater love for our Eucharistic Lord in your heart. You will learn to treasure the Holy Eucharist more deeply through Scripture, Church teachings, and philosophical reasoning. Experience the Eucharistic Fire: embrace the Real Presence of Jesus in the Blessed Sacrament and adore God's gratuitous love.
Guided by the Church in which our Eucharistic Savior dwells, you will also learn how belief in the Real Presence:
Surpasses other forms of God's presence
Is the central mystery and core tenet of our Faith
Manifests God's divine mercy as reflected in the prayers of the traditional Mass
Trains us in contrition and prepares us for a favorable eternal judgment
Deepens our love so that each time we worship will feel like our first, last, and only Mass
---
CONSIDER BULK DISCOUNT ORDERS:
15 to 30 copies: 40% off ($10.77 each)
31 to 40 copies: 45% off ($9.87 each)
Ordered by the case (44 per case): 50% off ($8.98 each).
Shipping for all bulk discounts is at cost, which is roughly $18-30 per case depending on where it's being shipped.
For example, a box of 44 copies including shipping to the UK amounts to just £9.55 per copy.
Contact contact directly Molly Rublee for BULK orders [mailto:mrublee@sophiainstitute.com].
---
Also newly arrived at St Mary's Sunday bookshop:
The Catechism Explained
by Fr. Spirago, published by Mediatrix Press:
Brand new hardback copies now available for discounted purchase at St Mary's shrine bookshop, Warrington: £20.00 per copy (instead of £28.00 on publisher's website and £33.00 on Amazon).
Opening times: 12:25pm-1:00pm every Sunday. Pay with cash only, thank you.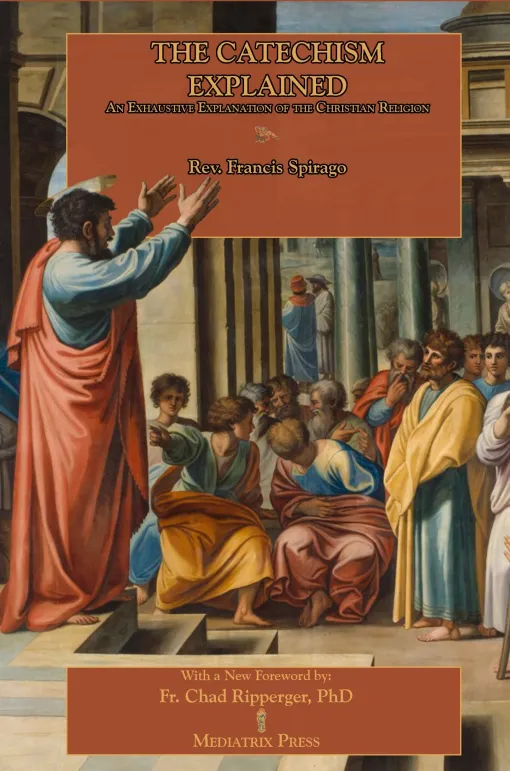 At long last, the Catechism explained by Fr. Spirago is back in print. This edition is not a facsimile, but a full reprint with increased font size, and very minor updates to antiquated English. Some of the numbering has been redrafted to avoid confusion.
We already have so many catechisms, what do we need of another? We indeed have in abundance catechisms and religious manuals which appeal only to the intellect; books that do not aim at the warmth of expression and the fervent, persuasive eloquence which appeal to the heart, the force and vivifying power which affect the will through the influence of the Holy Spirit.
This Catechism aims at cultivating all the three powers of the soul: the intellect, the emotions, and the will. It does not therefore content itself with mere definitions. The idea in it is not to teach men to philosophize about religion, but to make them good Christians who will delight in their faith. Consequently questions of scholastic theology, doctrines debated among theologians, are either omitted altogether or merely receive a passing mention.
In this catechism, Fr. Spirago has endeavored to divest religious teaching of the appearance of learning, and to present it in a popular and simple form. Technical terms, in which almost all religious manuals abound, even those intended for children, are carefully eliminated from his pages since, while useful and necessary for seminarians and theologians, they are out of place in a book intended for the laity. Popular manuals of religion ought to be couched in plain and simple language, like that used by Our Lord and the apostles, easy to understand. What we need is something that will touch the heart and influence the will, not merely cram the mind with knowledge.
"The Catechism Explained by Spirago embodies the Catechism of the Council of Trent, yet contains fuller discussions for each point in the language that was developed by the Church, saints and theologians throughout time. Rather than being locked into a specific age or decade, this catechism is an explication of the faith in an almost timeless manner. It is a catechism that any subsequent generation could read and learn the essence of the Catholic faith."
-Fr. Chad Ripperger, PhD
---
St George's Day celebration on Tue 26th April, 1pm: After 12:10pm Holy Mass of the Patron Saint of England, join us at the parish hall. Food contributions welcome, but Traditional English Dishes preferred.
---
Juventutem London Conference Day on Sat 14 May, 11am-4pm, SW18 2QU: facebook.com/londonjuventutem/
---
Pray for: Margaret and Marta Zielinska, Carmen Watts, Ray Cilia, James H., Tim Wright, Michael Leacy, Wendy Moss, Bill Conder, Greta Doyle, Dorothea Wallace, Deryck Sankey, M. Hawley, Theresa Reynard, Hilda Creagan.
HOLY MASS INTENTIONS: Other intentions are applied at Private Masses. Kindly ask Fr Stewart for details.
Sun 24
Low Sunday,I Class 3pm Divine Mercy devotions with Confessions 5pm Vespers and Benediction of the Blessed Sacrament
9:00am 11:00am 6:00pm
Francis Kilsby All St. Mary's Faithful Anthony Puspanathan
Mon 25
S Mark, Evangelist, 2nd Class
12:10pm
Holy Souls
Tue 26
S George, Martyr, Patron of England, 1st Class
12:10pm
Eileen Corcoran RIP
Wed 27
S Peter Canisius C D 7:45pm Men's Group Devotions and Talk
12:10pm 7:00pm
Monica Cardiff Luke Petherbridge
Thu 28
S Paul of the Cross C
12:10pm
Malachy Cardiff RIP
Fri 29
S Peter Martyr
12:10pm
Holy Souls
Sat 30
S Catherine of Sienna, V
12:10pm
Aidan Corcoran RIP
Sun 1
S Joseph the Worker, Spouse of the Bl. Virgin Mary 5pm Vespers & Benediction of the Blessed Sacrament
9:00am 11:00am 6:00pm
Pippa Curran All St. Mary's Faithful FSSP Clergy
Mon 2
S Athanasius BCD
12:10pm
Holy Souls
Tue 3
Votive Mass for religious Vocations
12:10pm
Isabella Robinson
Wed 4
The Holy Martyrs of England & Wales (Comm. S Monica) 7:45pm Men's Group Devotions and Social
12:10pm 7:00pm
Christina Clarke Henry Walker & Conan McGonagle
Thu 5
S Pius V, PC
12:10pm
Holy Souls
Fri 6
Votive Mass for priestly Vocations: texts on https://fssp.org.uk/votive-mass-to-ask-for-priestly-vocations/ First Friday Sacred Heart of Jesus & Holy Hour
12:10pm 7:00pm
Marie McCarthy RIP Sister Mari Caritas
Sat 7
First Saturday Immaculate Heart of Mary Adoration & Confessions 10:00am-12noon
12:10pm
Holy Souls
Sun 8
3rd Sunday after Easter,2nd Class 10:00am Baptism 5pm Vespers & Benediction of the Blessed Sacrament
9:00am 11:00am 6:00pm
Julia Flemming FSSP & Preserv Trad Lat Mass Ray Pennington RIP